What is Diamond Painting? Explained!
Posted by Devi Rifandiani on
What is diamond painting? If you are into arts and crafts, chances are that you have come across the term diamond painting. Diamond painting is an up-and-coming form of handcraft that features a mix between cross-stitching and painting by numbers. It is fun and not too difficult, making it a great past-time for even non-professionals.
What exactly is diamond painting?
"What is diamond painting" is a question that has been circulating on the net recently, and there is a reason for that! Diamond painting has been getting quite popular recently, and there are good reasons for that. It is relaxing, and the end results are scintillating pieces of art that you can hang anywhere, whether it is in your office or on the bedroom wall.
Diamond painting is a new art hobby popularized in the US and Europe in 2015. It involves applying hundreds of multi-colored rhinestones on a canvas. Each detail on the canvas is numbered, and you simply have to stick the corresponding piece of rhinestone to the detail. As every detail is already color-coded, there is no need for you to plan how to color the painting.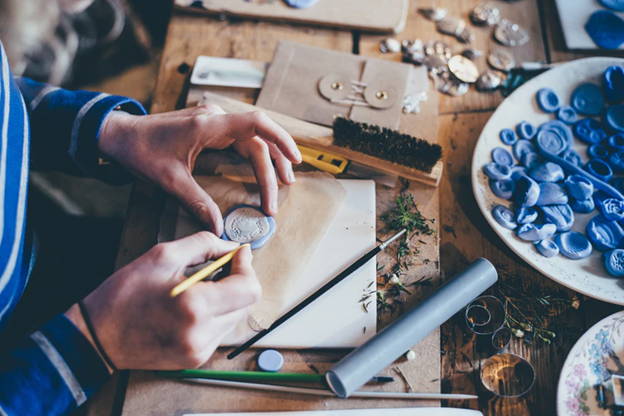 Why choose diamond painting?
Like all crafts hobbies, diamond painting offers a great wealth of health benefits: stress reduction, anxiety reduction, help with depression, etc. Diamond painting can also be a collaborative experience that binds you and your partner or your children together, making it a great activity for the whole family.
Diamond painting does not require a lot of art training to master, but it does require a lot of patience. Diamond painting, whether alone or cooperatively with your friends, will be a good exercise for patience.
Picking the perfect first diamond painting kit
Picking the very first project is important. Because it will really let you know if you will enjoy the new hobby or not. So what is a good first project?
Craft-Ease really suggests having a good mix: a little bit of a more difficult section as well as some simpler plain sections. This way you can have a taste of what diamond painting is all about.
The time when diamond painting gets challenging is when there are a lot of different colors right next to one another, the community adoringly called this kind of pattern "confetti. Because you have to pay attention to each dot, and you might have to change color in your tray every 5 diamonds pasted.
Large areas of a single color in turn are easy to do, and you can definitely go on 'autopilot' when working on these patches. But it can get boring. So we suggest a good mix, our suggestion is "Licornette" by Elen Lescoat, "Fancy Flowers" by Sybile Art and "A Lion in Full Color" by Mark Ashkenazi.

The shape of diamonds that you choose to work with also determines the difficulty level. Diamond painting kits come in two kinds of diamond drills: the Round and the Square.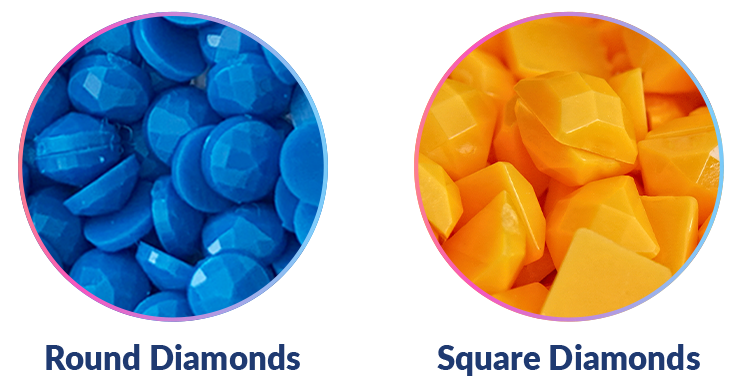 Round diamond drills are considered the more beginner-friendly options. Because the diamonds are round, there is no worried about making sure that they are aligned perfectly. That is why the round diamond drills are also faster to lay down, but leaves a small gap between the drills.
The square diamonds have a snap feature that allows all of the diamonds to meet corner to corner and left no gap between them. To guarantee that there is no gap between the drills you have to make sure that all the diamonds are placed with the right orientations. This becomes more challenging because any slant in one diamond will affect the fit of other diamonds.
Whichever you choose, it will not affect the quality of your work! So give both a try, and decide for yourself which one you like.
The tools required for diamond painting
We hope we answered the question "What is Diamond Art?" Diamond painting does not require as many complex tools as other crafts. All of the tools that you need to complete your diamond painting will be included in your kit. It is very standard to have your sticky canvas, diamond drills, applicator, tray as well as tweezers to be included in your kit. Check out what you will receive with our best diamond painting kit.
When you are ready to step up your diamond painting game, you can go ahead and invest in a couple of things that can help you!
1. Diamond Painting Pen - Upgrading your pen from the standard plastic tube can get you to craft longer. Not only does it look prettier, but it can also improve your grip and makes crafting more comfortable. There are endless choices of design and materials out there. We offer cute acrylic diamond painting pens in three pretty colors.
2. Diamond Painting Organizer - This is small cubbies that helps you store your diamonds when you are crafting. So that you can easily change colors and store them even after you are finished. A sturdy box is so much better than having to deal with the flimsy bags diamonds come with. We have a new organizer to get you started
3. Light pad - This upgrade is not a must, but can be nice to have. This is a board that can help shine your canvas from underneath so that you can easily see the symbol and put the right drills where it needs to. Light pads come in various sizes and price points.

Check out our Diamond Painting Kit Full Collections to find the right design for you. Once you have gathered everything, finding some buddies to sit down and do some diamond painting with you should be the next step.
Diamond painting, or diamond art, is a great stress reliever and a good educational tool. It helps foster creativity in children, and it will also help them combat stress or anxiety. Plus, the end result of most diamond painting sessions will look gorgeous in every setting! If you need to find the best templates for diamond painting, don't forget to check out our collections!
How To Start Diamond Painting
Starting a diamond painting is not complicated. All you need is a flat surface where you can be comfortable, bright light so that you don't hurt your eyes, and plenty of time to enjoy the process! The key thing is to take it one dot at a time and keeping all of your supplies together, for a more detailed guide head on over to our Diamond Painting Beginner Guide.
Gather your tools and pick a corner to start working on! If you are right-handed, we recommend starting from the left side of your canvas and starting from the right if you are a leftie. So that you do not put your hand on the sticky part of your canvas before you lay diamonds on it.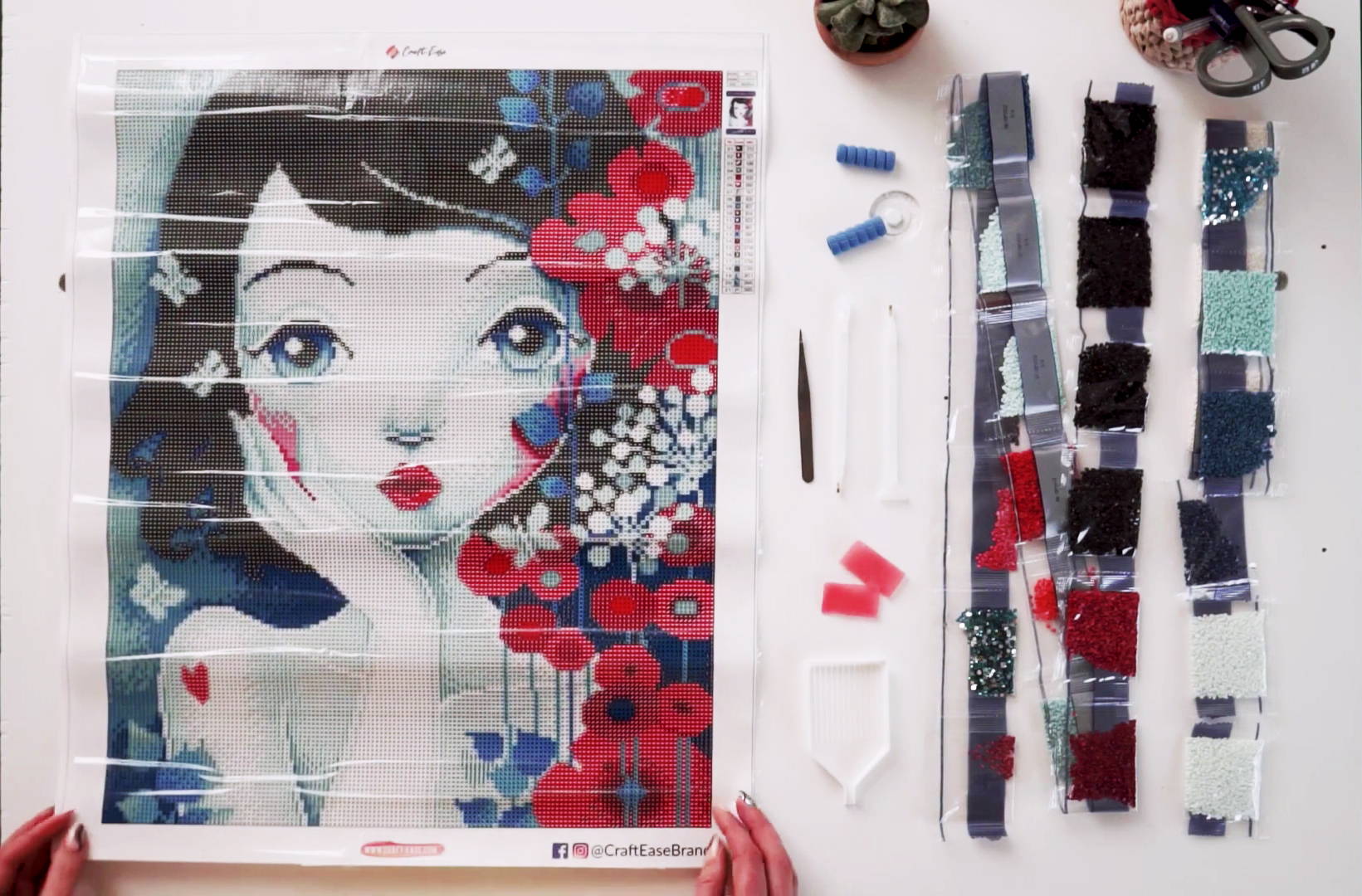 The trick is to do a little at a time, peel back the plastic cover bit by bit. You can cut out sections of the plastic according to how much time you have for that day. So that you don't expose the adhesive to dust that can cause it to get less sticky.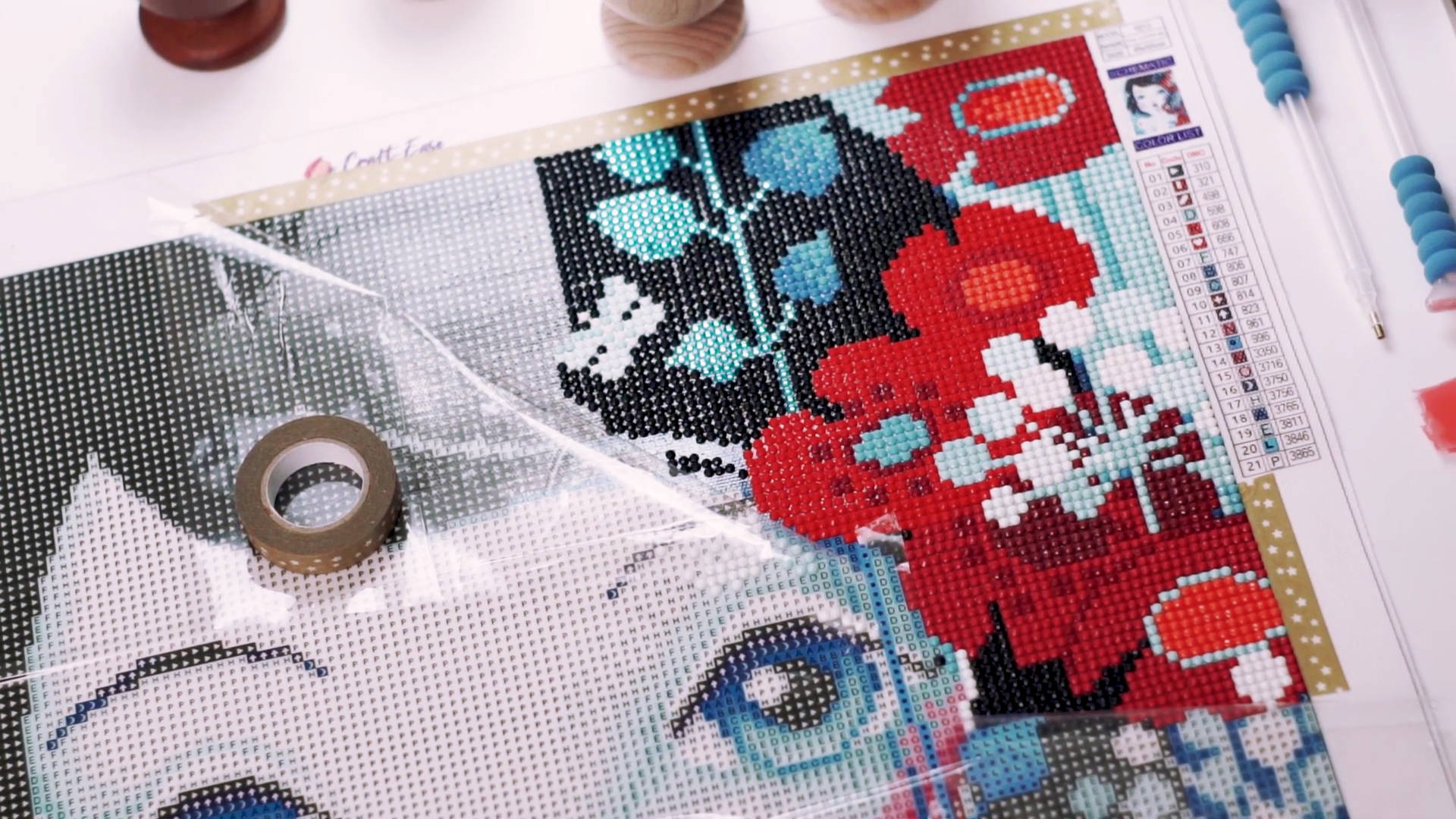 Pick one color you want to start with and pour out a little bit of diamonds to fill the plastic tray, and shake it. This tray answers the question of how do you get all of your diamonds the right side up!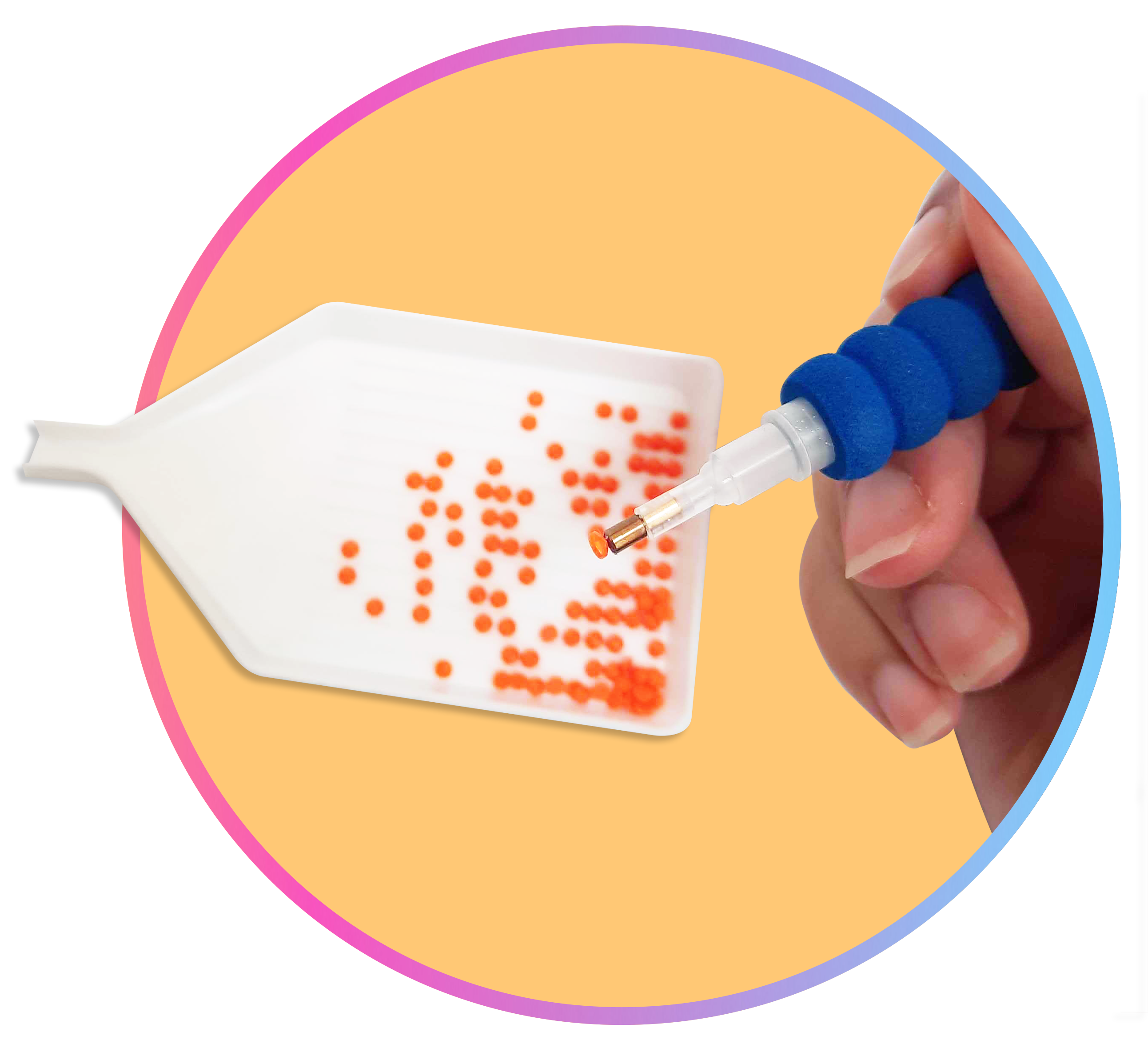 After your diamonds are lined up, you are ready to pick them up and place it on the canvas. Load your diamond pen with the applicator gum, the applicator gum should fill in the hollow of the pen and make it sticky so that you can pick up your diamonds. You can check our diamond painting guide for a more detailed breakdown of the different techniques you can try.
As you work, your gum will slowly turn murky with dust and other debris, and you might find it hard to pick up diamonds. When this happens, use your tweezer to fish the gum out and load it with fresh ones! Don't worry we give you plenty to finish your product.
And bit by bit, you will see the image forms. It may take a weekend, it may take weeks of 30 minutes each night. That's okay and it's no rush. Use the time you craft to connect with yourself as you slow down from your super busy life!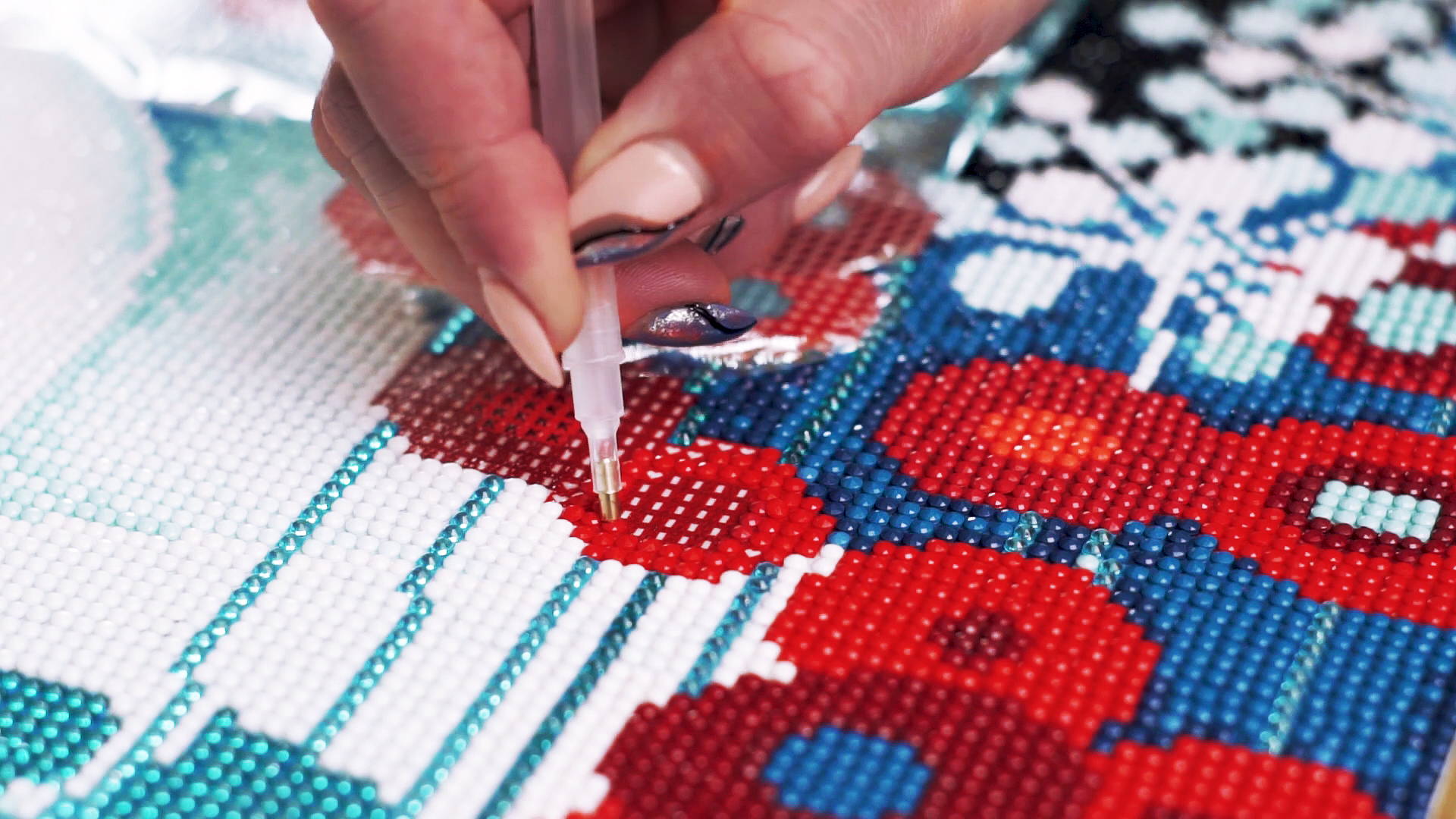 Nicole Garrison co-writer
Nicole currently works as a freelance writer specializing in art-related fields. She is an expert writer at SupremeDissertations. Nicole has collaborated with many experts in the field to uncover the secret world of arts. On most days, she can be found on TrustMyPaper working on an academic project.

What is Glow Diamond Painting?
Craft-Ease Glow Diamond Painting Kit is a unique and impressive glow in the dark craft. With the AB diamonds and photoluminescent Glow diamond drills, your diamond art will shine through from day to night!
3 Easy Steps on How to Paint with Diamonds For Beginners
All Craft-Ease™ kits come in a gift box - the first and only in the industry – so it'll be a real treat when you receive yours! Since many customers order to deliver thoughtful paint by numbers gifts directly to their loved ones.
Craft-Ease: Art Therapy for Everyone
At Craft-Ease™, we actively promote art therapy in the form of complete craft kits so that everyone can achieve therapeutic and joyful experience through art from the comfort of their home.
Our Favorites from the Collection
---