How to Flatten Your Diamond Painting Kit Canvas
Posted by Devi Rifandiani on
Diamond painting is the most comfortable to do over a flat surface, but you take your kit out of the box and it just won't lay flat. Read along to find out what you can do to get rid of creases on your canvas, and flatten it without damaging it.
First, let's find out why your canvas may have creases. As you already know, your canvas can be a big piece of surface that is quite impossible to ship to you flat, so all diamond painting kit makers will have to roll it to be able to fit inside of a box. The way that the canvas is rolled and stored might cause it to develop some creases on the surface.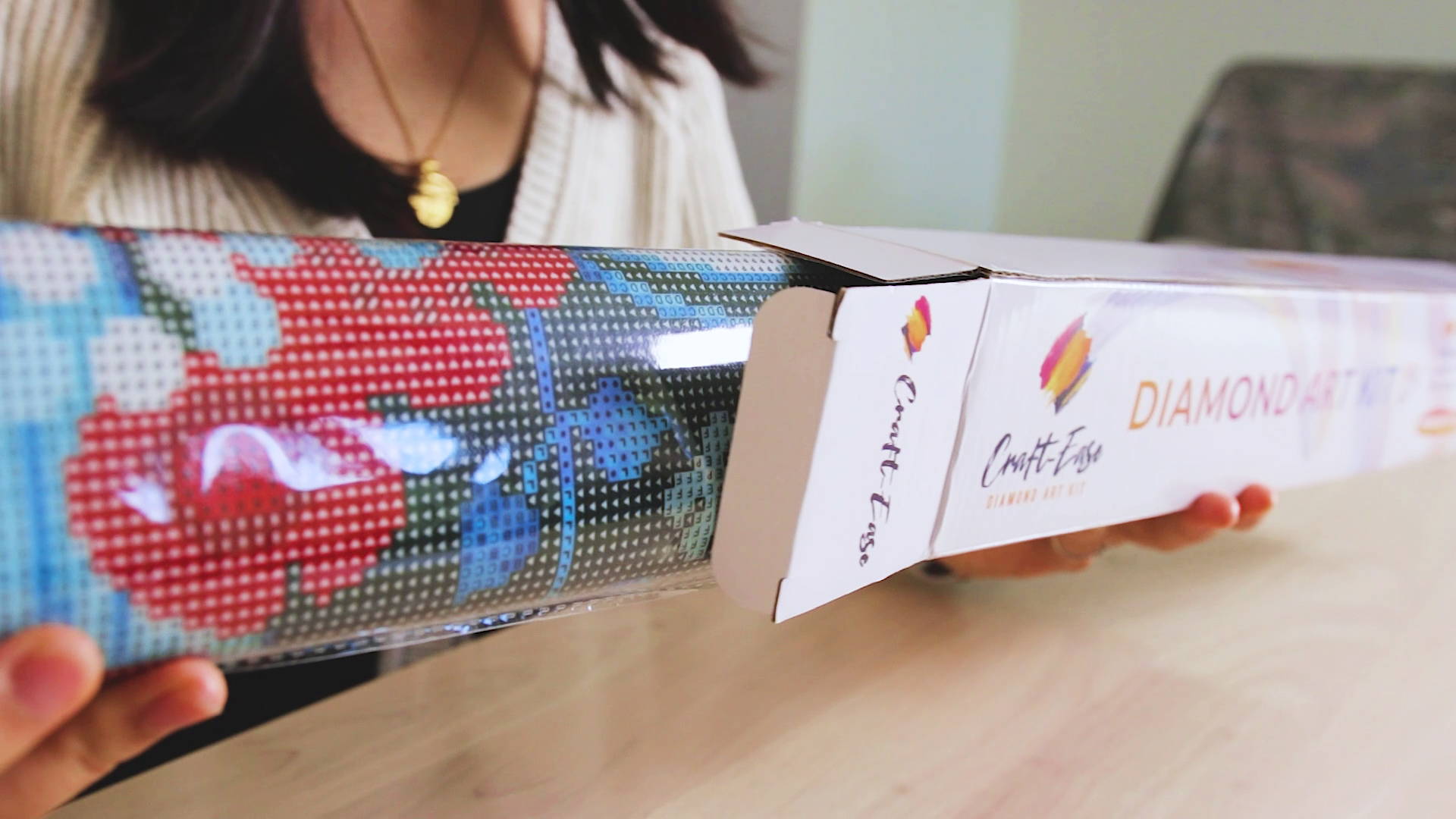 There are two kinds of adhesive commonly used on diamond painting canvas; double-sided tape and poured glue. Creases on a double-sided tape canvas mean that there is an air bubble trapped, you need to be very careful in releasing the air bubble. With poured-glue canvas, creases only mean that the canvas was folded and the glue folds along with it. There is no fear of damage for high-quality poured glue canvas, like the ones we use in Craft-Ease.

Please keep in mind that all of the tips about to be mentioned are best before you apply your diamonds!
Rolling it the other way round.
I know it sounds very simple. But sometimes this is all it takes to get the canvas to once again lay flat.
After taking the kit out of the box, you can unroll it, and roll it the other way around. This might take a few repetitions of rolling your canvas printed side out and blank side out. But it should reduce much of the curling of the canvas.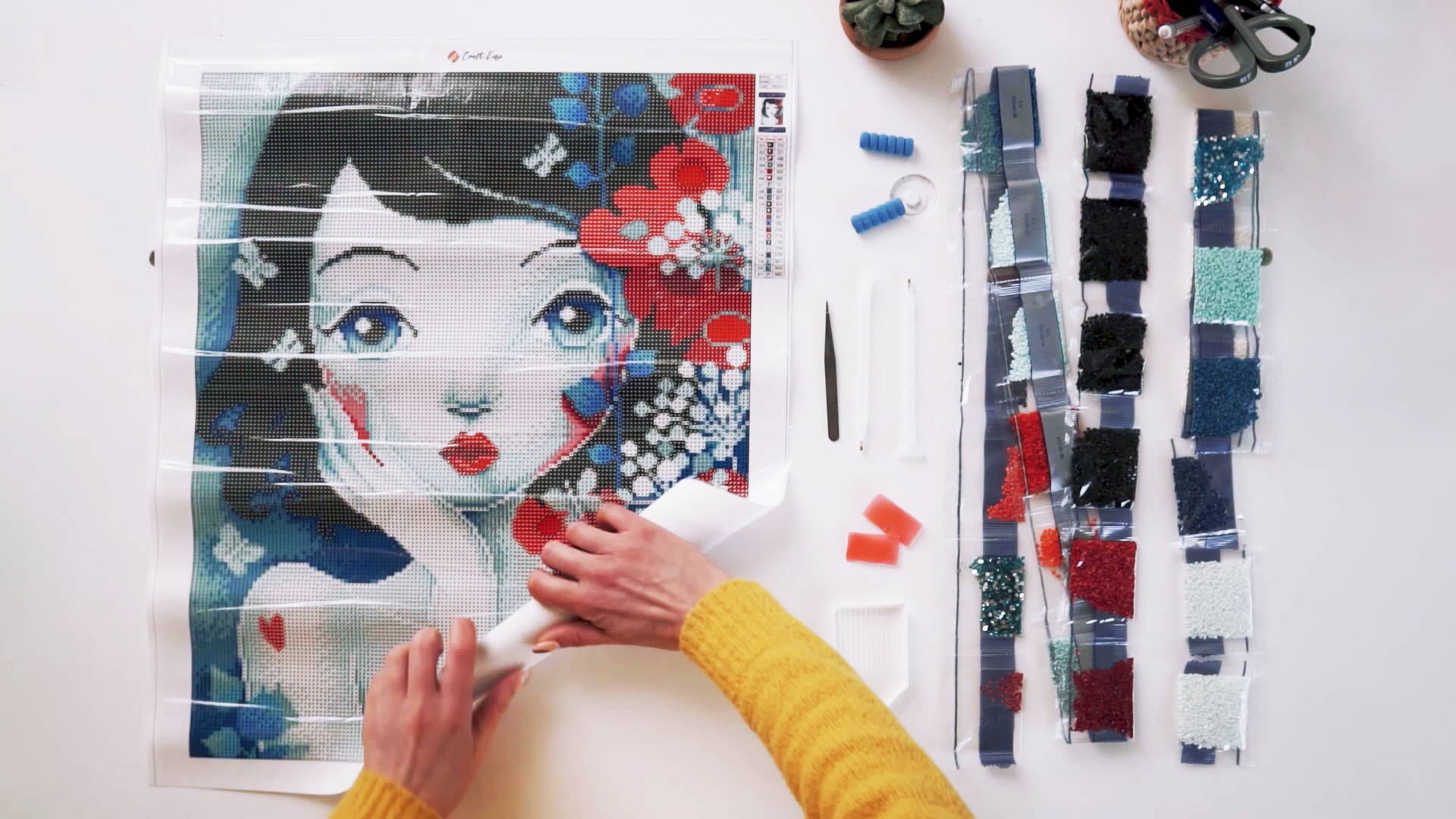 Peeling back the plastic cover
Keep in mind that this trick only works for poured glue canvas.
All you have to do is peel back a portion of the protective covering from one of the corners and stick it back onto the surface. Do not peel it all the way, because you might have a hard time applying it back on top of your canvas.
Do this several times, changing the direction and corners that you peel back. This should help retrain the glue to a flat position. Do not worry, this will not damage the sticky surface on your canvas nor will it reduce the stickiness. As long as you apply the covering back and do not leave it out for dust to collect.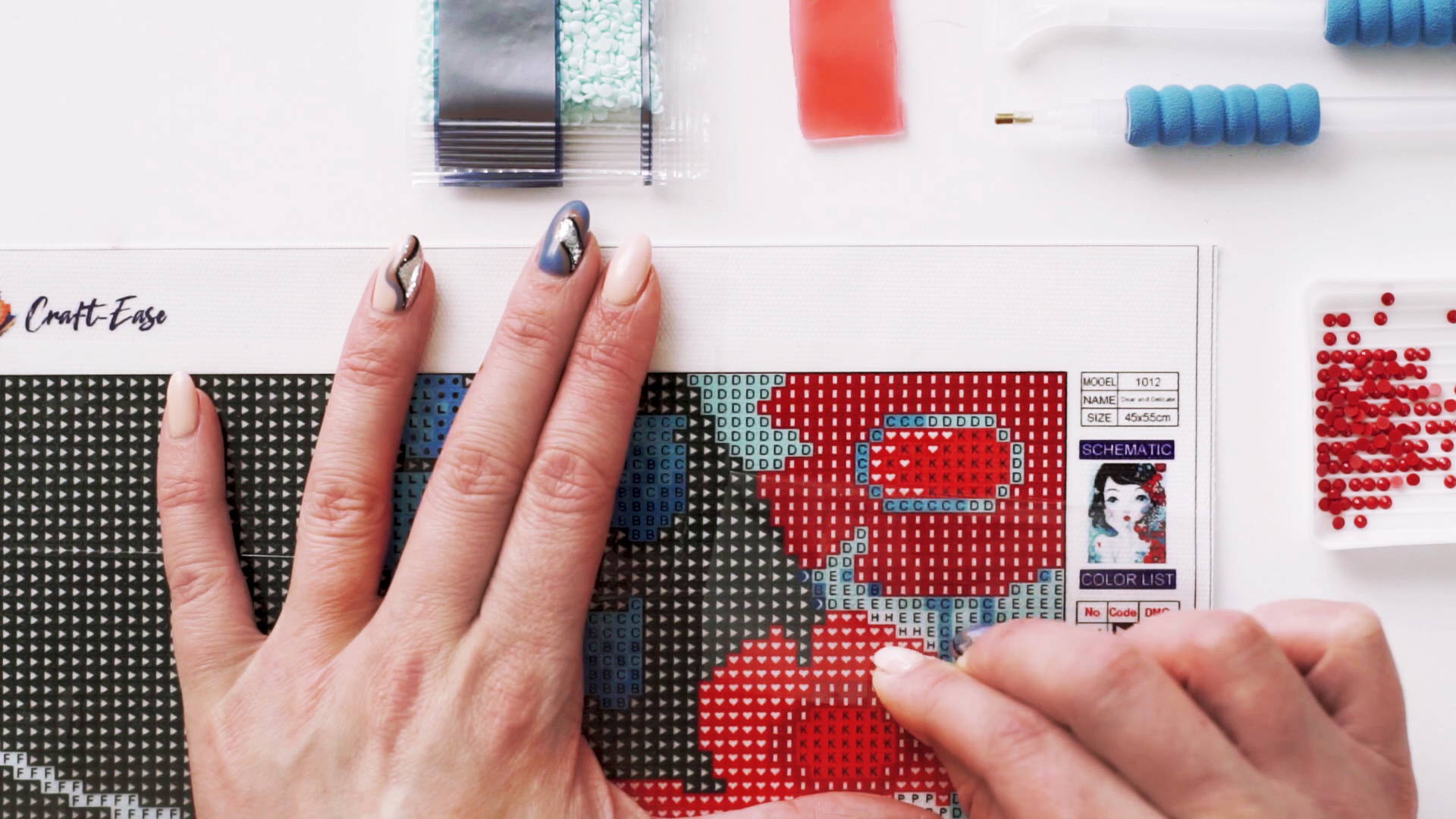 Laying it flat under heavy objects
When the first two tricks do not work, it's time for some heavy lifting! Literally.
Another way is to pile heavy objects on top of your canvas to force it to flatten. A spread of books or your mattress would be the best. It has to apply even pressure all through the canvas.
The key thing to pay attention to is before you pile on the heavy stuff, make sure that your canvas is smooth and straight. You can do this by taping it down to a flat surface. Because any heavy objects will make any creases permanent and sharper.
You can leave the canvas like this overnight and check back in the morning.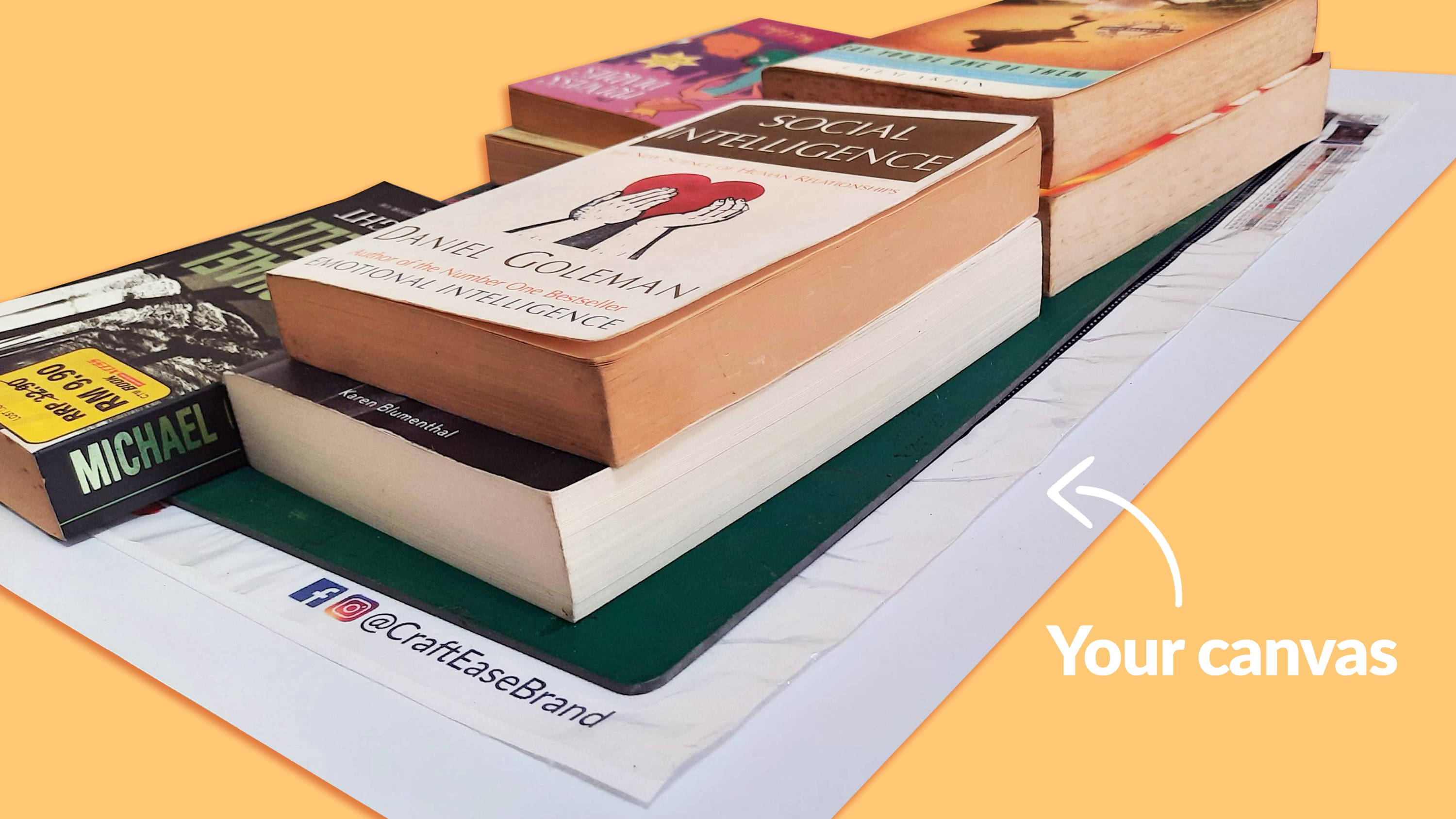 This trick is for those creases that are really hard to get rid of. You can always try a spritz of a wrinkle release spray! You can buy it from the store or you can try to DIY it with a cup of water, mixed with 1 teaspoon of fabric softener and 1 teaspoon of rubbing alcohol.
We recommend doing a patch test on one corner of the canvas before trying it to the whole surface. And remember to spray the back of the canvas, not the side with the glue on it!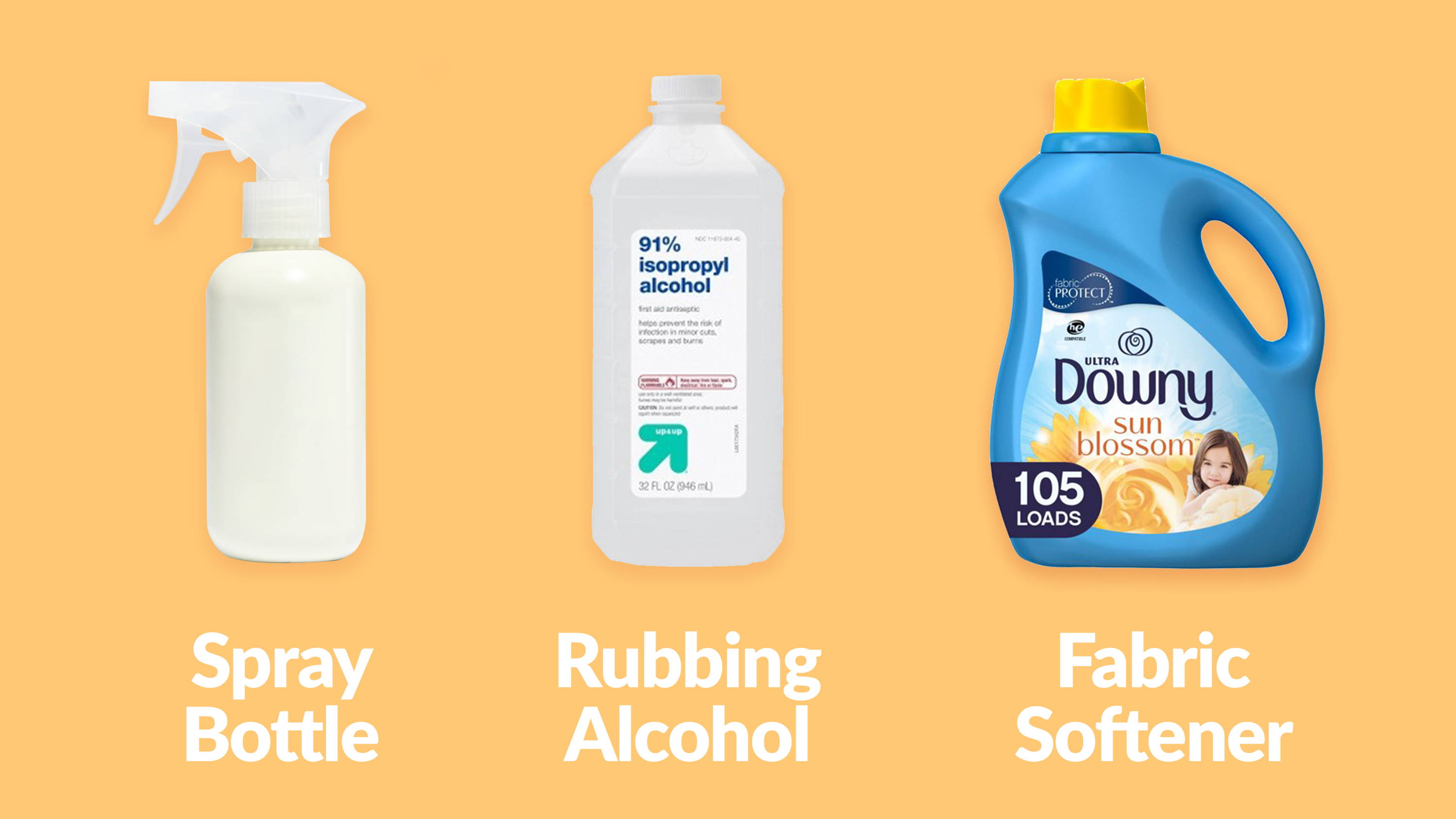 If all else fails, then we might have to 'reset' the canvas by applying some heat on it. Only do this before you apply the diamond drills! As the heat might melt and damage the beads.
Set your iron to the lowest setting. Then lay your canvas glue-side down, away from the iron, and cover the canvas with a dry towel. Then slowly run your iron all over the canvas. You might have to do a couple of passes on the canvas, especially over the created area. It is much safer to do more passes than to press down on your iron. Because this might put too much stress on the glue side of your canvas.
The key point is to use a dry towel and not to use steam from your iron. And not pressing hard on the surface.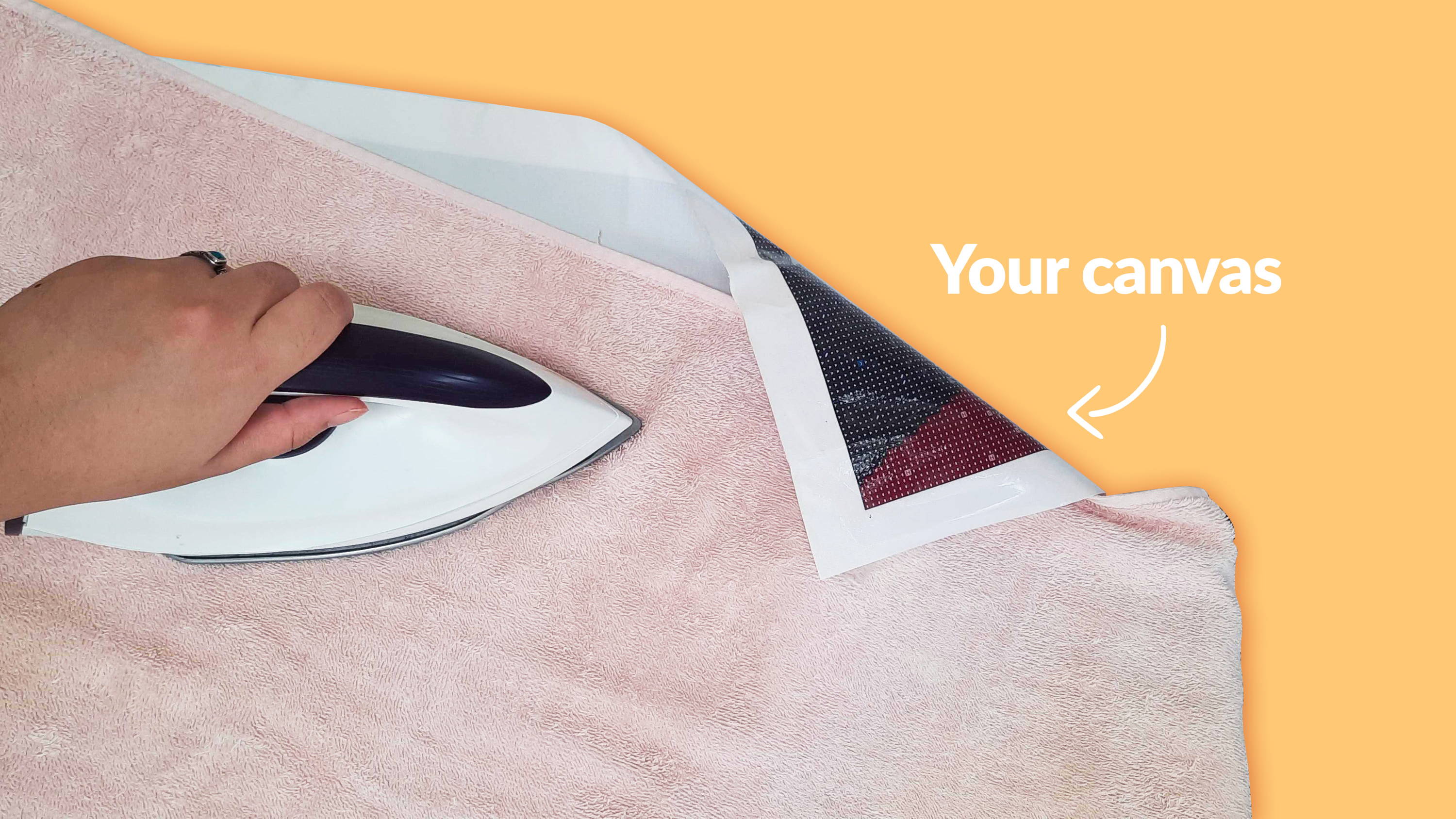 The heating pad is a good substitute for iron. And using it applies the same principles of 'resetting' the canvas and relaxing the fibres with a little heat. Same as the previous tips, only do this before you start working on your diamond painting!
With a heating pad, you can lay the pad face up, and cover it with a dry towel or blanket and lay the canvas glue side up, away from the heating pad. Leave the canvas laying on top of the pad for 10-15 minutes, regularly checking on it and the surface of the glue. If you see any portion of glue that started to change, immediately take the canvas off the heating pad.
This method is more commonly used on canvas with double-sided tape, rarely is this needed for poured glue canvas. Creases are sometimes created on the canvas because there are air bubbles trapped under the adhesive layer.
With a small point craft knife or a box cutter with a fresh blade, you can make a small slice on the tape to release the air bubble and flatten the adhesive back down. Be careful to not apply too much pressure on your knife, you only want to slice the glue, not the actual canvas.
Those are some of the ways that you can get rid of creases from your diamond painting canvas and get it to lay flat so that you can work on it comfortably! If after trying all of those, you still find creases on your canvas, please go ahead and contact the support team so that they can help!
If you want to learn more about starting our very first diamond painting, head on over to our full-length diamond painting guide!
What is Diamond Painting? Explained!
What is diamond painting? If you are into arts and crafts, chances are that you have come across the term diamond painting. Diamond painting is an up-and-coming form of handcraft that features a mix between cross-stitching and painting by numbers. It is fun and not too difficult, making it a great past-time for even non-professionals.
Paint by Numbers Tutorial for Beginners
Paint by numbers we have today is nothing like you've seen back in the days! We have so many different designs with various levels of challenges. Our kits take away the scary part of the painting and leaving only the fun relaxing parts for you to enjoy. Begin your first step into art therapy at home.
Craft-Ease: Art Therapy for Everyone
At Craft-Ease™, we actively promote art therapy in the form of complete craft kits so that everyone can achieve therapeutic and joyful experience through art from the comfort of their home.
Our Favorites from the Collection
---