Diamond Painting Tips for Beginners
Diamond Painting a great new hobby to get into! Especially with our kit that gives you everything to get you started and addicted to this relaxing hobby.
Stella from Why Knots Stitches, is a new diamond painter but she is a lifelong crafter! She is here to share her experience and tips with you. Before we move on, let's recap on what is diamond painting? Diamond Art is something between paint by numbers and cross stitch, without poking yourself! This is a relaxing activity you can use to take your thinking mind a break, and you can share it with your loved ones too!

Poured Glue Canvas - is where you will paste your diamonds! I know the image printed is already pretty, but I assure you it will get better with every diamond you add!
Diamond pen applicator - This is how you get the diamond to the canvas, the right side up. We include an extra applicator for you as well as a couple of multiplayer mount for you that likes to go fast!
Applicator Gum - This little pink good is the magic. Ever wonder how the drills can get picked up by the pen? The gum is the answer! This turns the end of the pen sticky enough to pick up the drills, but not so much it fights with the canvas. We gave you enough to spare, so change them often!
Tray - The little ridges on the tray help you with lining your diamonds right side up, and ready to be picked up!
Tweezer - Everybody makes mistakes, and that's fine. Use this tweezer to pluck a diamond that you placed by mistake, or just to neaten up your rows of blings.
The extra things you need.
Not much actually, just a pair of scissors, a medium sized container, and paperclips (or tape). When I was doing my first diamond painting, I used a repurposed plastic take-out box to store my drills and tools.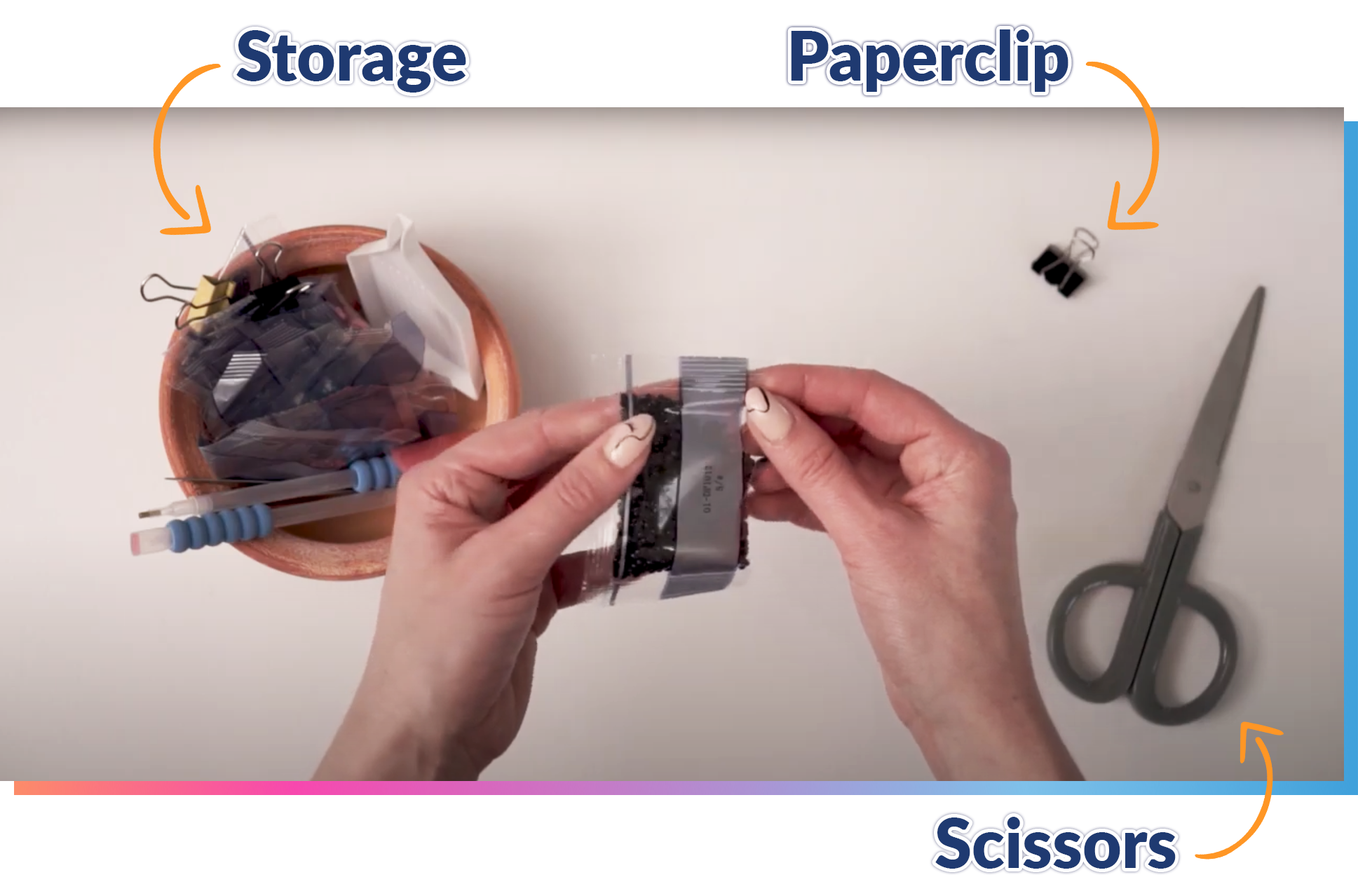 Start with separating your bags of colored diamond drills, and find a container big enough to keep all of them together. Stella is using a wooden bowl to keep her small packets of diamonds. There are some small plastic containers that you can buy to store your diamonds in a more sturdy place, but we are saving that for when we can already decide that we love doing diamond paintings. Choose something that is large enough to keep your drills as well as your tools!
Keeping your diamonds together!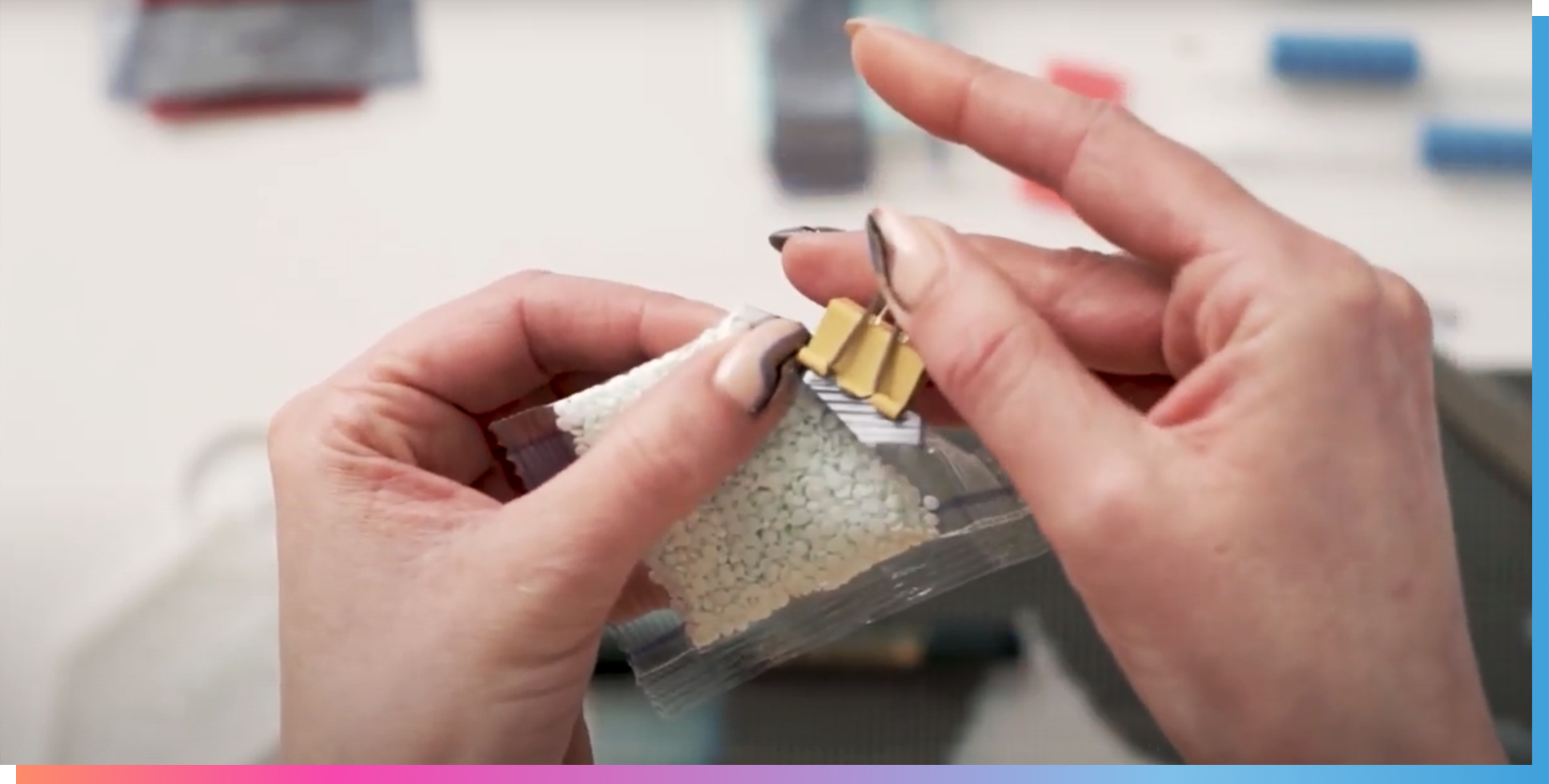 Keep a pair of scissors handy for you, as tearing the bag open can cause an explosion of diamond drills. And we want to keep the hole small, so that we can keep using the plastic bag. When you are done with one color and want to move to another, you can use a paperclip to close your bag and keep your diamond safe. If you do not have 30 paper clips handy, you can always use a weak adhesive tape. Washi-tape and masking tape works great! Just fold the opened part of the bag and seal them in.
Your canvas comes rolled so it's time to unroll them! Often time, it can be a little stubborn and won't lay flat. There are a few ways to combat this.
Partially feel off the protective layer of your canvas and put it back in place. Repeat this on all 4 corners. This should help with with the curling.
Roll it the opposite wayit was rolled in the box.
Lastly, if it's stubborn, lay it flat and put weights on the corners overnight!
If you are right handed, the top right corner is a good place to start, if you are left handed, start from the left. We want to avoid putting your hand on the sticky glue before you lay diamonds on it.
To keep the canvas fresh and sticky, work in small sections. Peel the protective layer little by little. Gently section the protective layer with a scissor or craft knife, to work in small manageable squares.
The edges of the painting can also have some leftover glue that you cannot peel off, so we suggest covering the excess sticky border with some masking tape as well.
Pick a symbol on the canvas and match it to the color! Then pour a little bit of drills on the tray, you do not want to overload your tray, as it can prevent the drills from lining up properly in the tray. To line up your drills right side up, give your tray a gentle shake.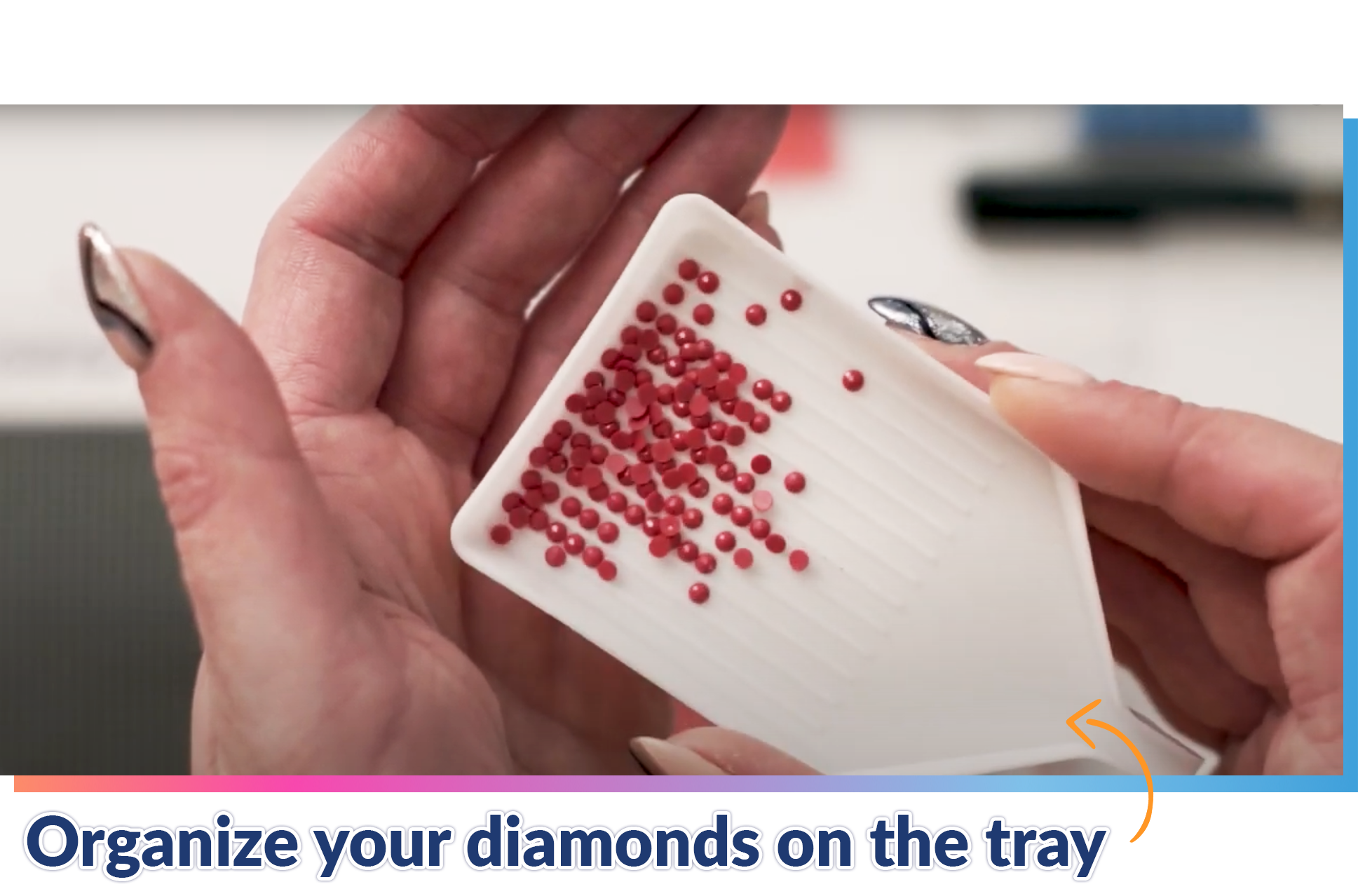 Load up your diamond pen with the pink wax, this will let you pick up the diamonds. When it feels less sticky and you find it hard to pick up diamond, it's time to refresh your wax, just pull it out with your tweezer and put in new ones. Don't worry we give you enough wax to finish your painting with plenty to spare!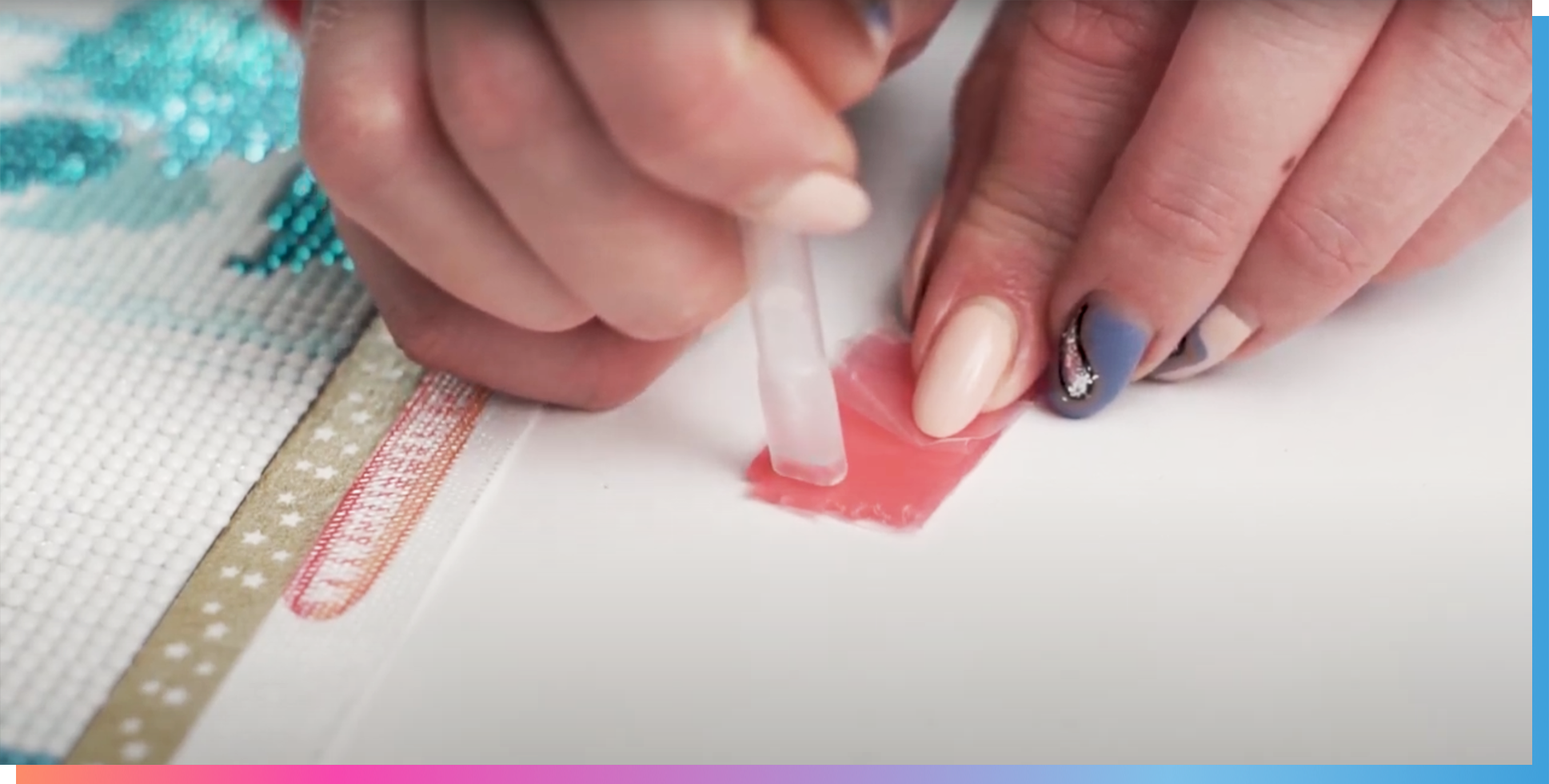 You have the options to pick up your diamond one by one with the single placer. Or if you are the kind of person that wants to see your diamond painting completed as soon as possible, you can try the multi placer as well. All of these multiplaces has their own tricks on how to use, and it can take a little bit to get used to them.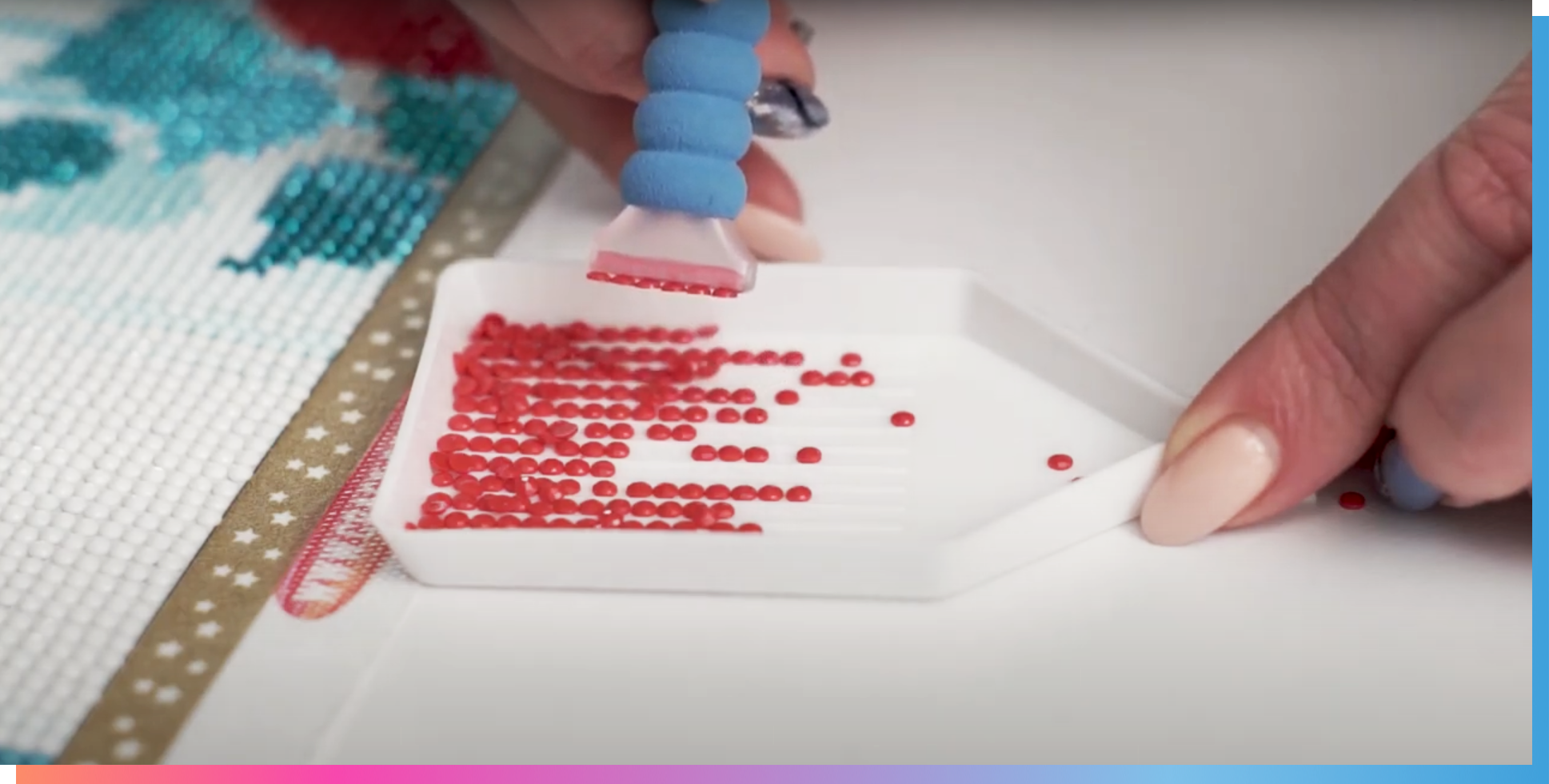 Then just stick the diamonds to the canvas! Take your time and line up your diamonds. You can use the tweezer to nudge the diamonds to form perfect rows. This is the beauty of poured glue canvas! Moving your diamonds will not damage your painting right away, you can still slide and adjust your drills.
If you made a mistake, don't panic! That's why there is a pair of tweezers in your kit. You just need to pluck them one by one, and stick on the correct color! This will not damage your canvas.
Enjoy the quiet time you have placing each diamond. Embrace it when your mind starts to wonder and you let go of the stress you have been holding on to.
What is Diamond Painting?
Diamond painting is a craft that is quickly growing in popularity among both novices and experienced artists alike. And contrary to what you might be thinking, you don't need to have put hours of practice into diamond painting in order to end up with stunning results
Best Diamond Painting Quality
Load up your diamond pen with the pink wax, this will let you pick up the diamonds. When it feels less sticky and you find it hard to pick up diamond, it's time to refresh your wax, just pull it out with your tweezer and put in new ones. Don't worry we give you enough wax to finish your painting with plenty to spare!
Beginner's Guide to Paint by Numbers
Paint by numbers we have today is nothing like you've seen back in the days! We have so many different designs with various levels of challenges. Our kits take away the scary part of the painting and leaving only the fun relaxing parts for you to enjoy. Begin your first step into art therapy at home.
Our Favorites from the Collection