What are AB, Star AB diamonds and Glow diamonds in Diamond Painting Diamond Art Kit?
Posted by Lois Chan on

Diamond painting is such a joy to do and to look at! What comes in a diamond art kit can offer a very different experience and diamond painting art as well! Besides the choices of poured glue canvas or double sided taped canvas, not all diamond drills are created equal! Indeed, diamond drills (also known as dots, strass, beads, gems and rhinestones) can be color diamonds, AB diamonds, Star AB diamonds and Glow diamonds as well! This article explores the differences between the diamond drills so that you can work on a diamond painting masterpiece to your liking!
Color diamond drills - what are the differences between 3D vs 5D diamond drills?
This refers to the solid color diamonds made of acrylic or resin with a multifaceted surface that will make the majority of your canvas. They might appear plain individually - when used in composition to form a pattern on a canvas - the color drills reflect light and create depth forming an impressive sparkly 3-dimensional art!

Good diamond drills are uniformed in size and they are not stuck to each other. With more facets, the diamond painting would render a better shine by reflecting more light.
You might have seen the terms 3D and 5D diamonds while researching diamond painting kits. This is a subjective way of accentuating the multifacetedness of diamonds, thus implying how well it can reflect light and shine. In fact, 3D diamonds have 3 facets with 9 facets in total and 5D has more facets, 5 facets on each side with 15 facets in total. 5D diamonds thus render a better "sparkle" to the finished diamond painting art. Since diamond painting is a new craft, there is no industry regulation to be sure if the diamonds in a kit by a supplier are 3D or 5D diamonds. The best is to find out how many facets of the diamonds the diamond painting kit includes.
AB is short for Aurora Borealis. This refers to the solid color diamond drills with a beautiful Aurora Borealis rainbow coat that gives it an opalescent shine on the surface. The appearance can differ, it can be a shiny soft pearl-like coating to a strong dual-color reflection.
They are used to highlight parts of the diamond painting pattern adding dazzling and mesmerizing effects to the art, just like the northern light it got its name from.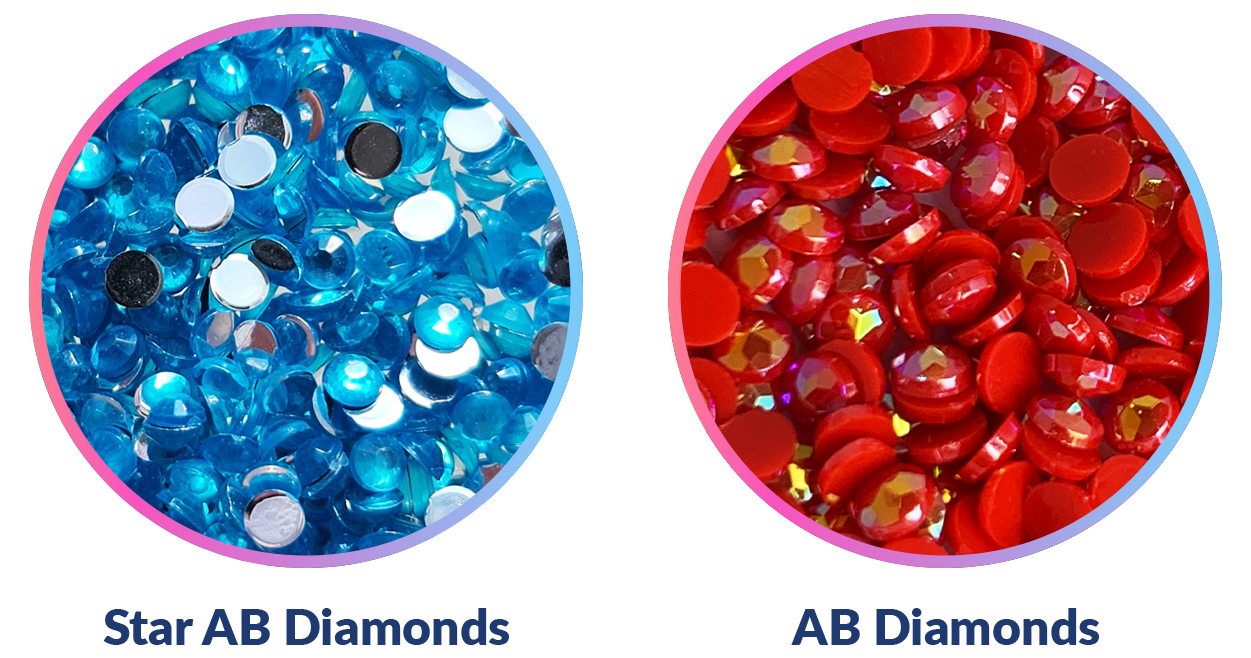 On a closer look, the ultra-shiny Star AB diamonds can remind you of the hype of bling in the 90s! These precious translucent diamond drills are crystal-like with a reflective silver base which allows maximized contrast rendering a sparkling ultra-shiny diamond painting art!
Same as AB diamonds, these are used to add extra sparkles to the highlights of the art, so the details such as eyes or flowers totally pop and look extra beautiful and captivating!
Some people might call Star AB diamonds differently such as 5D rhinestones or 5D diamonds, the terms are subjective and can vary due to the lack of an industry standard.

Glow Diamonds - one diamond painting, two impressive arts!
Glow diamonds are photoluminescent and glow in the dark. What makes these Glow diamond drills stand out from other diamond drills is the use of long afterglow phosphorescent material that absorbs photon / light in the visible area then radiates in darkness. In addition, the material is reusable! So when the glow is fading, simply recharge it by exposing diamonds to at least 15 minutes of sunlight (best to allow it to absorb light for 2-3 hours), then they will glow again! Who doesn't glow after a good sun bath anyway?! ;>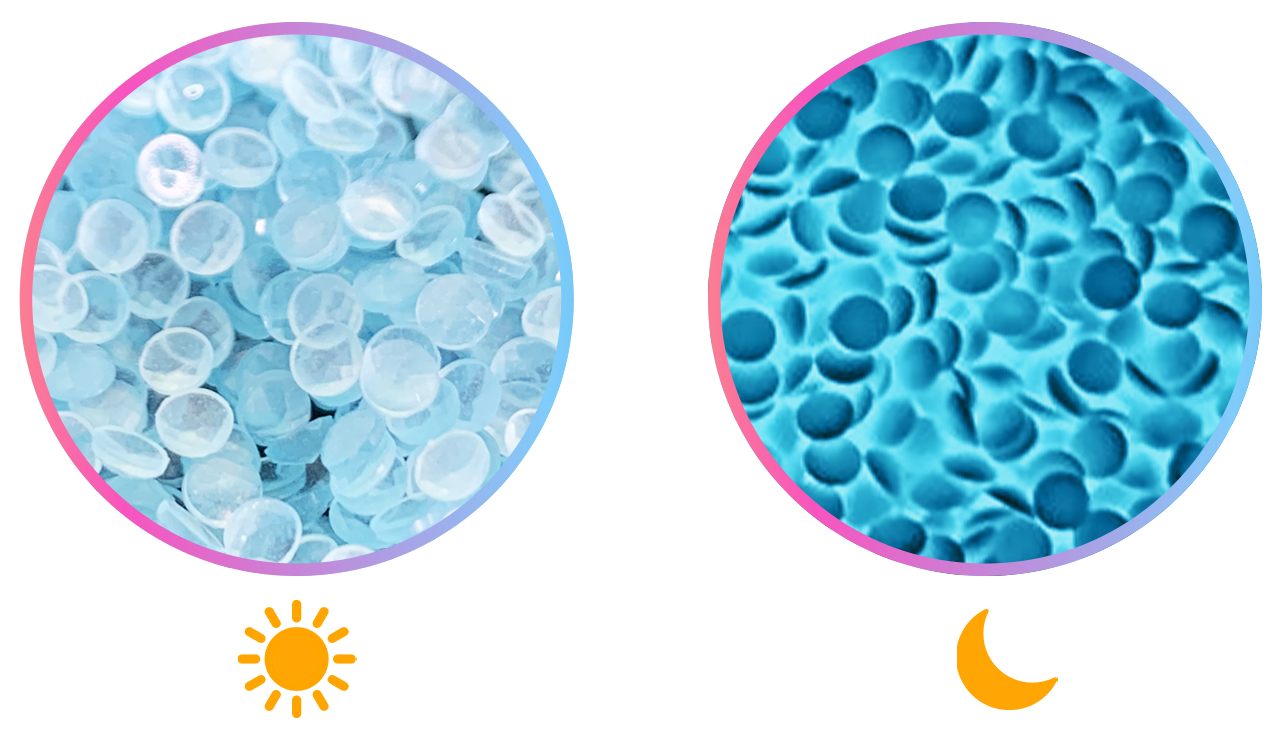 With light, the Glow diamonds appear like a solid color diamond smoothly blended in a finished diamond painting art. The artwork is spectacular and beautiful thanks to the composed details and colors with sparkly color, shiny AB and/or Star AB diamonds.
When in darkness, the main features of the same diamond painting art glow in the dark in soft colors. The crystalline artwork now offers an extraordinary sensation - the stillness and tranquility of the glowing art is incredibly soothing and fascinating to look at.
An absolutely stunning diamond painting that is impressive from day to night - Craft-Ease Glow Diamond Painting Kits earns the best diamond painting kits thanks to the quality tools and the inclusion of all AB, Star AB and Glow diamonds. This also makes Craft-Ease the only company that offers licensed artworks with Glow diamonds.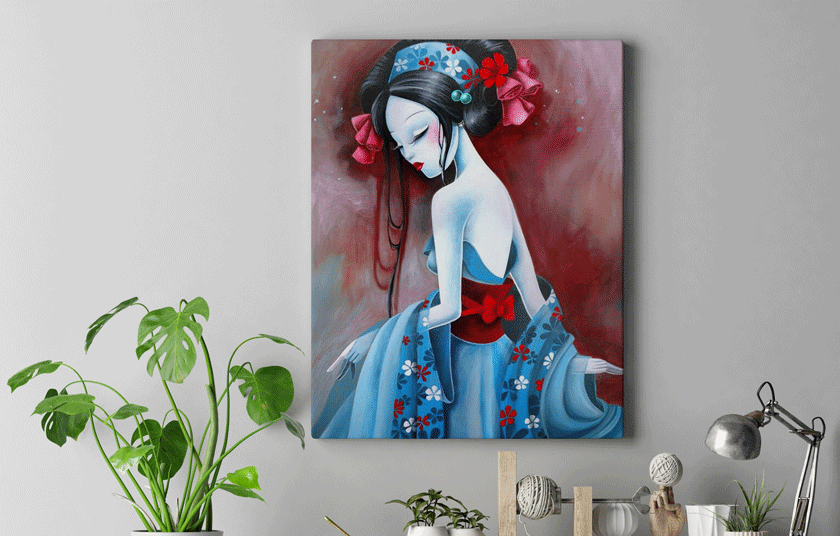 What is Glow Diamond Painting?
Craft-Ease Glow Diamond Painting Kit is a unique and impressive glow in the dark craft. With the AB diamonds and photoluminescent Glow diamond drills, your diamond art will shine through from day to night!
3 Easy Steps on How to Paint with Diamonds For Beginners
All Craft-Ease™ kits come in a gift box - the first and only in the industry – so it'll be a real treat when you receive yours! Since many customers order to deliver thoughtful paint by numbers gifts directly to their loved ones.
3 Easy Steps on How to Paint with Diamonds For Beginners
At Craft-Ease™, we actively promote art therapy in the form of complete craft kits so that everyone can achieve therapeutic and joyful experience through art from the comfort of their home.
Our Favorites from the Collection
---