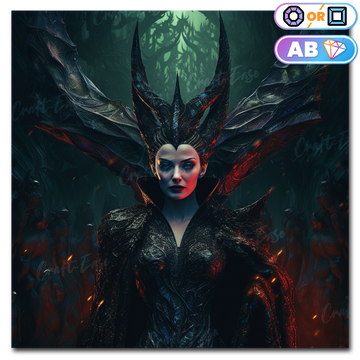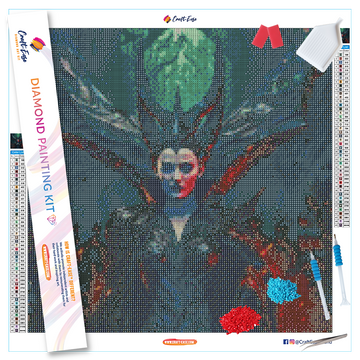 Maleficent
by Craft-Ease AI Originals
Everything you need to create a masterpiece:
This kit, composed of 
For 40x40
Sparkly Color diamonds (round or square): 43, 
Star AB diamonds: 2
For 50x50
Sparkly Color diamonds (round or square): 43, 
Star AB diamonds: 2
"Maleficent" by Craft-Ease AI Originals. Unleash the enchanting darkness of 'Maleficent' in this artwork, where beauty meets intrigue. Discover the alluring complexity of a classic villain's mystique.
Poured Glue Canvas that Sticks
Only True Experts Swear by Those
Our canvas is covered in poured glue. It will always stick. You'll never have any bubbles and your diamonds will never fall. That's the only way your art will continue to look stunning FOREVER!
Diamonds that sparkle like fireworks
Get Your Shades Ready!
There is nothing more satisfying than seeing your masterpiece glisten when the sun hits the shiny colored diamonds! We make it satisfying with extra sparkly diamonds harvested from the stars!
Applicator
One? No, Two Applicators!
We know the excitement and urge to see the finished diamond painting assoon as possible, so we include another applicator that can pick up more colored diamonds at once!
Tweezers and Tray
Quality Tools 🎨
A tray and a pair of tweezers to keep your workstation organized and your masterpiece error free!
Applicator Gums
Never run out!
This is a diamond painter's worst nightmare: "Running out of gum before the masterpiece is finished". Fear not, we have two gum pads ready for you to use! You can also save it for later as an extra for your next diamond painting
About The Artist
Discover the Craft Ease AI Originals Collection, an innovative selection of paint by numbers and diamond art kits designed to inspire your creativity and ignite your artistic passion. We've taken our commitment to supporting independent artists to new heights by embracing the cutting-edge world of artificial intelligence. By merging the best of human imagination and machine precision, we've created a truly unique collection that benefits our entire community of artists.
In the spirit of community and collaboration, the Craft Ease AI Originals Collection supports all of our independent artists collectively. For every AI-generated art piece sold, a commission is distributed among our entire network of talented creators. This initiative not only encourages artistic innovation but also fosters a thriving and supportive artistic community....
The result is an array of one-of-a-kind pieces that showcase the limitless potential of AI in the world of art. Each design is thoughtfully curated to provide you with an engaging and enjoyable creative experience as you bring these captivating images to life through paint or diamonds.
As you explore our Craft Ease AI Originals Collection, you'll discover a diverse range of designs that cater to all artistic tastes and skill levels. From serene landscapes and mesmerizing abstracts to intricate geometric patterns and whimsical characters, there's something to inspire every artist, no matter your background or experience.
Embark on an extraordinary artistic journey with the Craft Ease AI Originals Collection and experience the unique fusion of human ingenuity, AI-driven creativity, and the power of community. Unleash your inner artist, and take pride in knowing that with each purchase, you're not only supporting independent artists but also contributing to the advancement of art, technology, and collaboration.
Dive into the Craft Ease AI Originals Collection today, and let your imagination soar while supporting a community of passionate artists!
See their collection
Supporting Artists with every purchase
Our exclusive series features art that's made by a range of artists all over the world
Reviews