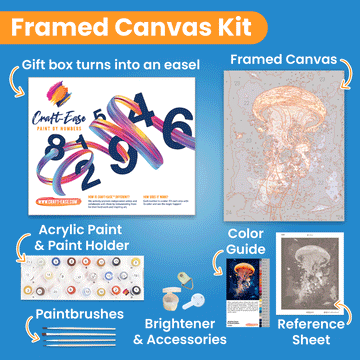 Postcard Teas
by Urban Anna
Everything you need to create a masterpiece:
"Postcard Teas" by Urban Anna. Shopfront painting is one of the most popular pieces from the artist Urban Anna, check out her other works here.
To roll or not to roll?
Rolled Canvas Kit
Roll it on up!
The "Rolled Canvas Kit" includes all you need to re-create each artwork from scratch with a securely rolled canvas to avoid creases.
Framed Canvas Kit
Frame it up!
The "Framed Canvas Kit" is what our fans rave about! It's the best upgrade from the "Rolled Canvas Kit". You get it all, plus the Canvas comes pre-framed and the box turns into an easel.
All the tools you need.
Linen Canvas
Professional Painters swear by those
This is the real thing; a Linen Fabric Canvas printed in color so you won't be scratching your head to know what color to paint. And the numbers are big and clear! No more guesswork, just joy & paint!
Paint Pots
Paint Pots that get you covered!
Ever worry about running out of paint? Don't! We've got you covered. With up to 5 pots for some large color spaces, we'll always keep you fuller than last year's Christmas dinner 🍗
Paint Pot holder
Who doesn't like better storage?
Bonus Paint Pot Holder included in every kit to keep you painting in style 😎
Paintbrushes
Quality Tools 🎨
4 Wooden Paintbrushes with all the tip sizes you need to make you feel like Picasso!
Color Guide and Reference Sheet
Reference Sheet 🕵️‍♀️
Numbers are never enough! If you're looking to create that Da Vinci perfection, we'll give you all the references you need to compare and adjust.
Pre-Framed Canvas
Hassle Free, Ready to Hang!
Because we know it's hard and costly to frame it yourself, our professionals do it for you! Delivered hassle free!
About The Artist
Astrid Wielinga aka Urban Anna 
is a self taught artist, born in 1969 in The Netherlands. She only started with watercolor in October 2020. Her mission is: making the mundane magical! In her art she likes to capture the beauty in worldly architecture. Her objects are from all over the world, from England to Japan. She paints pubs, shopfronts and other colorful facades. 
See their collection
Supporting Artists with every purchase
Our exclusive series features art that's made by a range of artists all over the world
Reviews