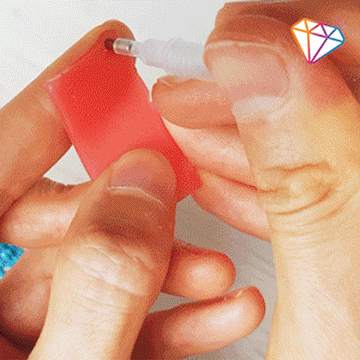 Time Travel at the Manhattan Bridge
by David Loblaw
Everything you need to create a masterpiece:
 This kit, composed of 30 color diamond drills: 3 Ultra-shiny Star AB diamonds, and 27 normal color diamond drills.
 What if one of the most iconic spots to capture one of the most iconic structures in the world holds a secret that can ripple through time?
Poured Glue Canvas that Sticks
Only True Experts Swear by Those
Our canvas is covered in poured glue. It will always stick. You'll never have any bubbles and your diamonds will never fall. That's the only way your art will continue to look stunning FOREVER!
Diamonds that sparkle like fireworks
Get Your Shades Ready!
There is nothing more satisfying than seeing your masterpiece glisten when the sun hits the shiny colored diamonds! We make it satisfying with extra sparkly diamonds harvested from the stars!
Applicator
One? No, Two Applicators!
We know the excitement and urge to see the finished diamond painting assoon as possible, so we include another applicator that can pick up more colored diamonds at once!
Tweezers and Tray
Quality Tools 🎨
A tray and a pair of tweezers to keep your workstation organized and your masterpiece error free!
Applicator Gums
Never run out!
This is a diamond painter's worst nightmare: "Running out of gum before the masterpiece is finished". Fear not, we have two gum pads ready for you to use! You can also save it for later as an extra for your next diamond painting
About The Artist
Born in Chicago to Canadian artistic parents, David spent his early years in Chicago, and Boston before he and his family moved to Toronto. From a young age, David spent much of his time learning to draw in his father art studio. After attending one of Toronto top art high schools he went on to study at The Ontario College of Art and Design. He then spent two decades working as a professional graphic designer and Illustrator. And now spends his time split between creating his own personal art and as a freelance designer. David's digital artistic style is wide-ranging, from digital paintings that pick up on Canada's group of seven impressions style landscapes to his world of fantasy arts he is currently creating.
See their collection
Supporting Artists with every purchase
Our exclusive series features art that's made by a range of artists all over the world
Reviews