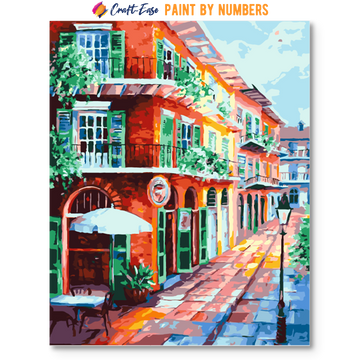 Pirate's Alley Cafe
by Diane Millsap
Everything you need to create a masterpiece:
A bar since 1996, they create an experience for all of us, pirate want-to-be. Get the taste of the wild living out at seas, and sip the burning liquor. A staple of New Orleans.
To roll or not to roll?
Rolled Canvas Kit
Roll it on up!
The "Rolled Canvas Kit" includes all you need to re-create each artwork from scratch with a securely rolled canvas to avoid creases.
Framed Canvas Kit
Frame it up!
The "Framed Canvas Kit" is what our fans rave about! It's the best upgrade from the "Rolled Canvas Kit". You get it all, plus the Canvas comes pre-framed and the box turns into an easel.
All the tools you need.
Linen Canvas
Professional Painters swear by those
This is the real thing; a Linen Fabric Canvas printed in color so you won't be scratching your head to know what color to paint. And the numbers are big and clear! No more guesswork, just joy & paint!
Paint Pots
Paint Pots that get you covered!
Ever worry about running out of paint? Don't! We've got you covered. With up to 5 pots for some large color spaces, we'll always keep you fuller than last year's Christmas dinner 🍗
Paint Pot holder
Who doesn't like better storage?
Bonus Paint Pot Holder included in every kit to keep you painting in style 😎
Paintbrushes
Quality Tools 🎨
4 Wooden Paintbrushes with all the tip sizes you need to make you feel like Picasso!
Color Guide and Reference Sheet
Reference Sheet 🕵️‍♀️
Numbers are never enough! If you're looking to create that Da Vinci perfection, we'll give you all the references you need to compare and adjust.
Pre-Framed Canvas
Hassle Free, Ready to Hang!
Because we know it's hard and costly to frame it yourself, our professionals do it for you! Delivered hassle free!
About The Artist
Artist Diane Millsap is passionate about New Orleans. She loves its architecture, music, and most of all, its people. She has become enchanted with this city because it has a depth of soul and a love of life that reaches out to everyone. It is a constant source of inspiration for her, and she makes frequent visits to New Orleans to paint and photograph and visit friends. 
Diane's vibrant, distinctive paintings of New Orleans have been chosen by many national corporations and civic organizations as marketing images, and her paintings hang in many private and corporate collections across the United States and abroad.
Diane was born in Southern California, and raised in the Chicago area. She received her formal art training at Western Illinois University. She and her husband currently reside in rural northern Illinois.
See their collection
Supporting Artists with every purchase
Our exclusive series features art that's made by a range of artists all over the world
Reviews