What is Paint by Number? | Craft-Ease
Posted by Devi Rifandiani on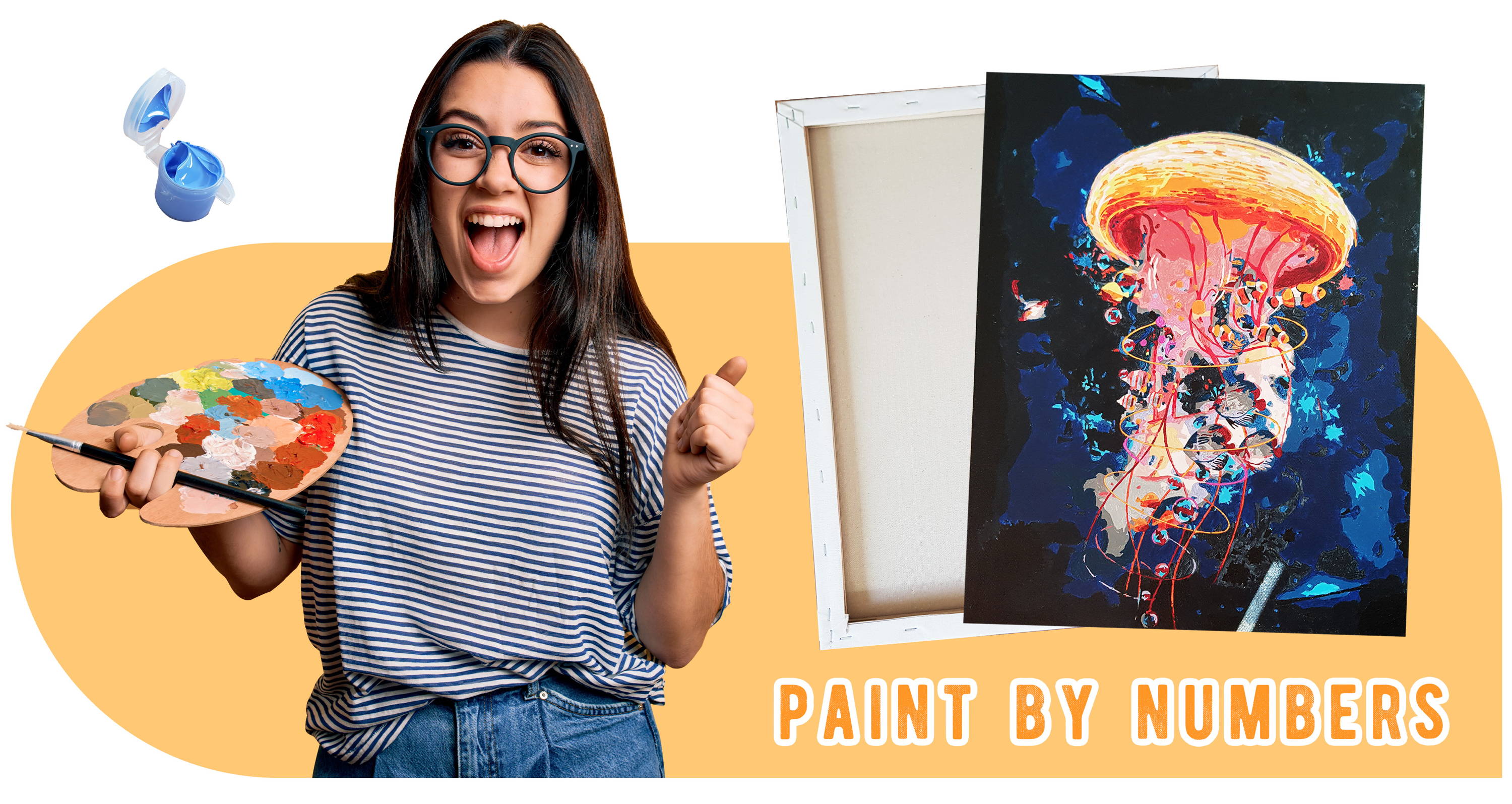 What does paint by numbers actually mean? Are there more to it?
Paint by number is a method of painting where your painting surface already has a lightly printed image on it. Made out of shapes that have a number that matched with a color on the painting medium. The most common painting surface are canvases and the most common painting medium is acrylic paint.
Paint by numbers has been around for a very long time, but it has grown and evolved. Back in the day, it was limited as an activity for kids with generic and unimaginative art. Nowadays, paint by number is a growing hobby for adults. There are endless options in the market right now. From beginner-friendly painting to complicated designs that will also challenge the more experienced crafters.
What's inside a paint by numbers kit
It is very important to not separate a set of paint by numbers, as the selected set of paint will only make sense for that particular painting. A number 6 on one canvas can be a pretty pink but a dark blue on another. That is why paint by numbers more often than not will come in a kit.
With Craft-Ease you will receive almost everything that you need to complete your painting. You will receive a canvas, a set of paint, and a set of paintbrushes. All you need to bring to your painting session is a small cup of water and some paper towel or rag to clean your brush with.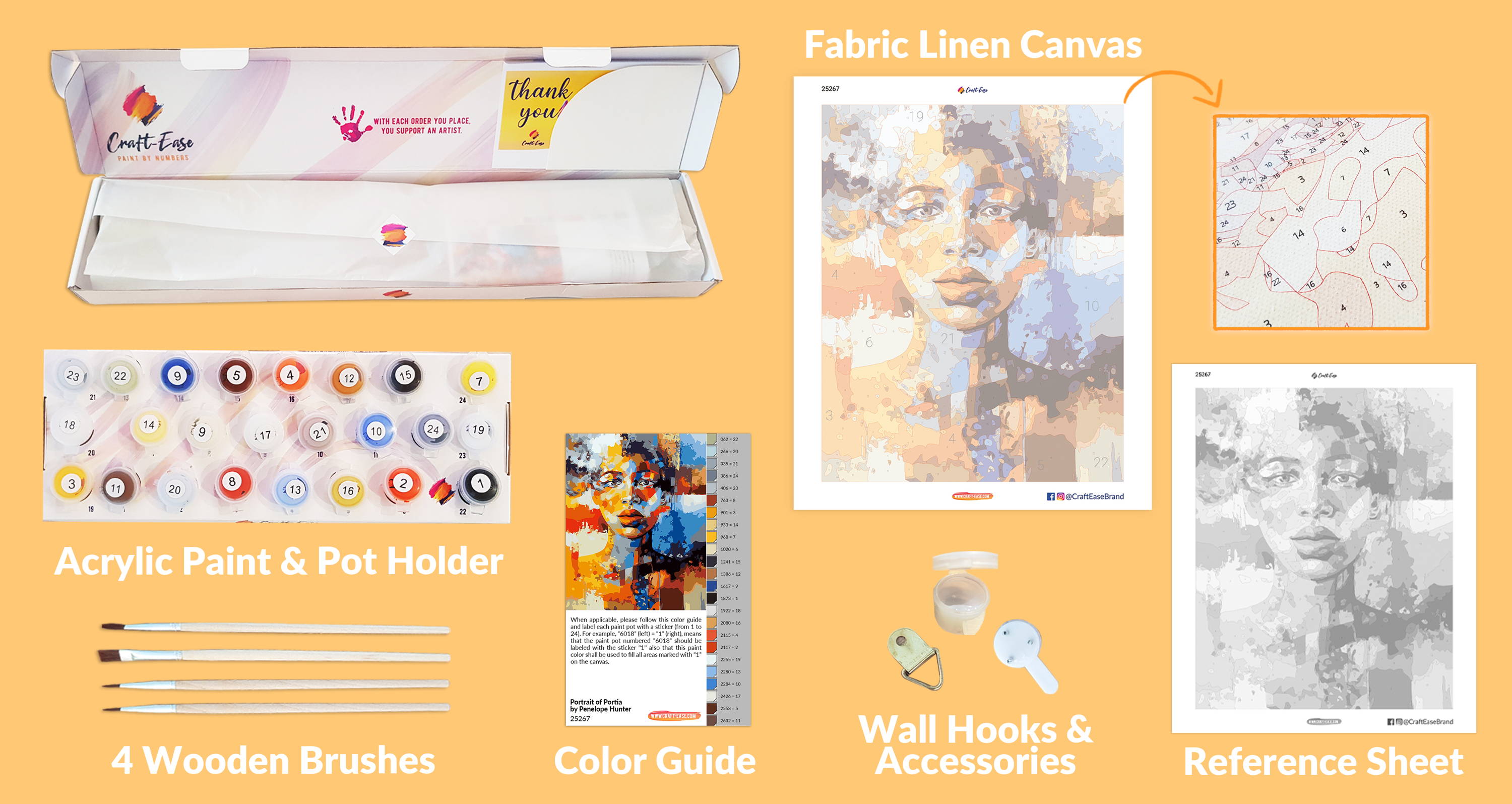 You have the option to have your canvas rolled or framed. Rolled canvas is great for people with limited storage space or those that have a different idea on how to mount their canvas other than the traditional wooden frame. While framed canvas is perfect for those that want a canvas that is ready to be propped up on an easel! Whichever you choose, it will already be printed and coated with primer so that you can start painting right away.
Craft-Ease also uses acrylic paint in our kits. Acrylic paint is a great option because the color options are endless, there are bright vivid colors as well as the softest of pastels. The texture of acrylic is also great, the consistency is easy to handle even for beginners. The best part is that acrylic paint is quick-drying, so you do not have to wait too long between layers. The opaque application of acrylic made it very forgiving for any mistakes, as any part you do not like, you can always paint over once the layer has dried.
Who is paint-by-numbers for?
Paint by numbers is for everyone! Let me explain why it is beneficial for people at all skill levels.
For beginners, this is a great way to introduce you to the experience of painting and art-making. You get to experience the texture of paint and how to handle a brush. The best part is that paint by numbers takes the fear of failure away from your canvas. Because we know, facing a blank canvas is intimidating if you are just starting out.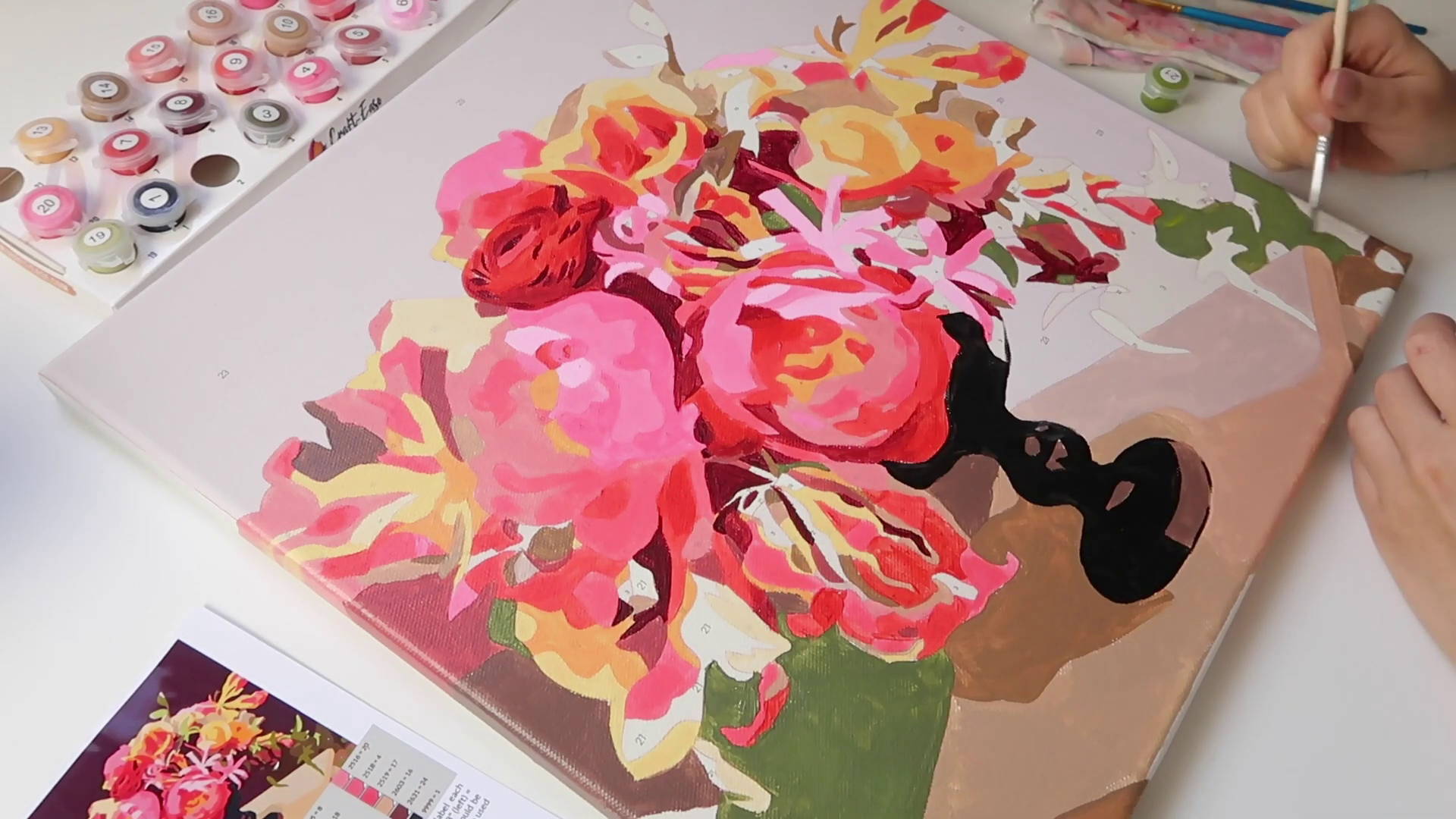 For the more experienced painter, this is also a great experience. Because to grow as an artist, you will also benefit from studying other artist's works. Craft-Ease's designs are directly licensed for independent artists that have a very distinct and amazing style. You got to recreate and closely observe their color selections, compositions as well as break down their best works into the building blocks of shapes and colors.
Paint by numbers is a different approach in making artwork and being creative. With Paint by numbers you are able to get familiar with brush and paint, it helps you build confidence in your own ability.
Other benefits of paint by number
Other than the obvious creative benefits you will gain, paint by numbers also has some great benefits. At Craft-Ease we promote the therapeutic benefit of paint by numbers. With paint by numbers, it allows your brain to take a break from a lot of the business and headaches you have in your daily life. All of the planning is already done for you, and you will only need to paint.
Crafting time is a great way for you to slow down and live in the moment. The repeated motion and tactile feeling of handling physical materials are really relaxing. We are proud to say that we have heard from many of our community members that paint by numbers has helped them get through some difficult times. The downtime allows them to process the many things that are going on in their lives. They came out of their crafting session more refreshed and relaxed.
How to pick your first paint by numbers
There are so many different paint-by-numbers designs that you can pick out there! And you are free to choose. Don't feel like you are limited to anything.
For beginners, the elders, and the younger painters, we do recommend painting that has bigger areas for individual colors. This means there are fewer intricate details that will confuse you. This way you can really be worry-free and let your guard down. We recommend "A Lion in Full Color" by Mark Ashkenazi, "Dear and Delicate" by Sybile Art as well as "Exotic Bouquet" by Marla Gill.
As for those that want a challenge in your painting experience, you can find designs that have more details. Please know that with more details, the paintable areas will get smaller thus it is possible that the numbers will also get smaller. When you feel like reading the numbers gets too frustrating, trust your gut and take the chance to take the matter into your own hands, and go with what you feel is right! Remember that there is no right or wrong in art! For this type of painter, we recommend "Jellyfish Galaxy" by David Loblaw, "ELO" by Christine Cholowsky, as well as "Circulation" by Minjae Lee.
How to start your very first paint by numbers
Now that you picked your first kit, you are ready to start! Let briefly go over the steps here, but if you want to read about it in detail you can head over to our
As mentioned earlier, you will receive pretty much everything that you need to start and finish your painting. All you need from your homes are a cup of water to rinse your article "Paint by Number Tutorials for Beginners".
Before you put paint to canvas, firstly you have to label all of your paint by numbers. Because not all companies will have the number that matches the canvas printed on the paint container. We at Craft-Ease have the color code that corresponds to our whole color library printed on the paint pots. But we do provide you with a set of label stickers that you can easily paste on the pots.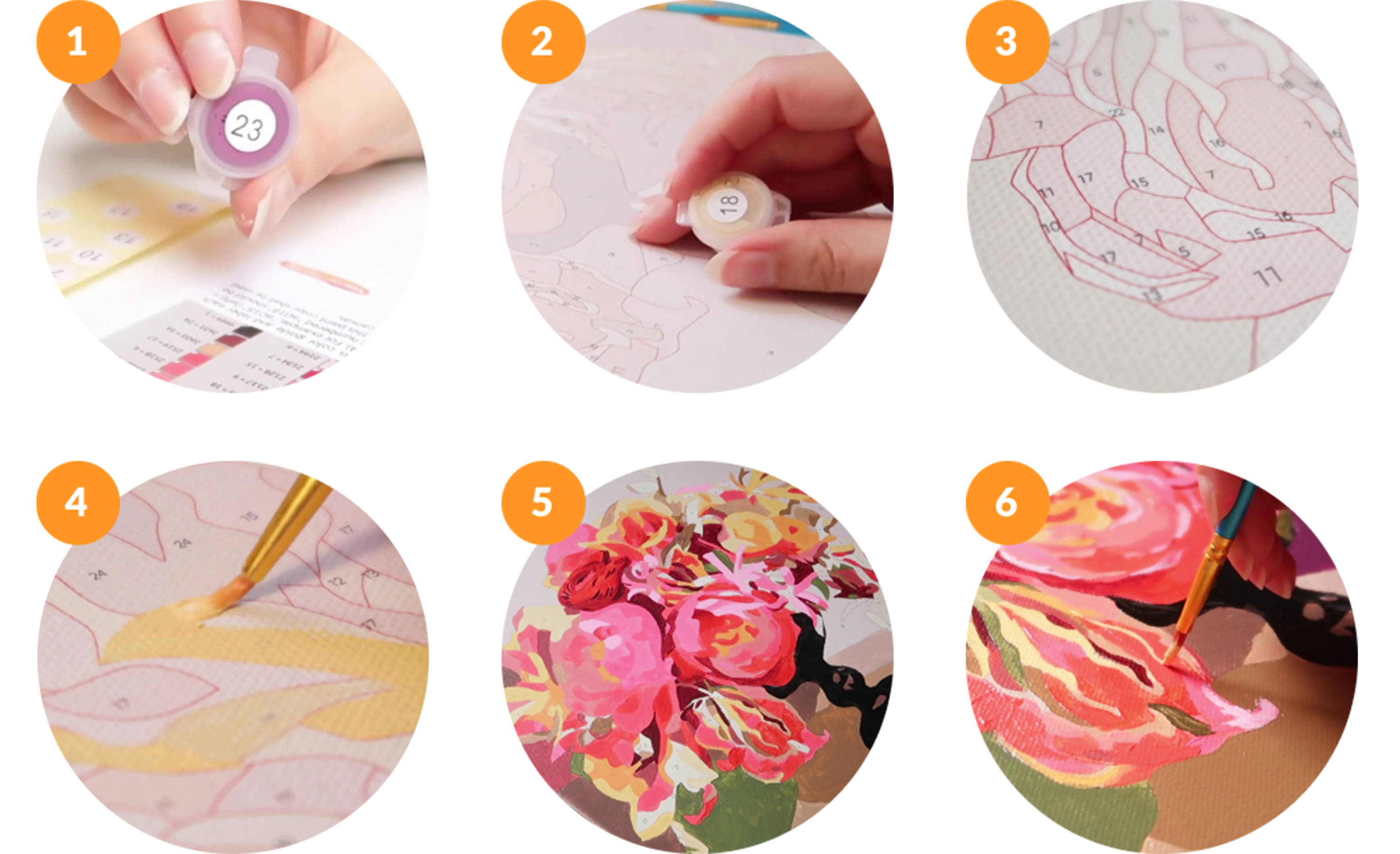 When you are done labeling you need to get your canvas ready. For rolled canvas, you can do a few things to flatten your canvas and get rid of the small creases. As an additional step, you can apply a thin layer of clear gesso. We recommend going to the lighter colors first, as they are more forgiving and easier to cover up if you make any mistakes. Start from the top of the canvas the opposite of your dominant hand; if you are right-handed start from the top left corner and if you are left-handed start from the top right corner. So that you do not lay your hand on a wet surface.
But if you want to see the bulk of your work first, you can always start from the part of the painting that you find most interesting. This is art, not rocket science! Have fun with it. If you feel like you want to spice up your painting, you can go ahead and check our article on how to step up your paint by numbers game.
The key takeaway from all of this is that art is supposed to be an experience that you can enjoy. Art-making can help fill your heart with a sense of pride, happiness, and accomplishment.
I really hope that you find beauty in the small things.


This is specially written for the ones that bought rolled paint by numbers kit. Even though it can be small and easy to store, the rolled canvas can be quite tightly rolled and get quite stubborn when you want to flatten it to start painting.
Paint by numbers we have today is nothing like you've seen back in the days! We have so many different designs with various levels of challenges. Our kits take away the scary part of the painting and leaving only the fun relaxing parts for you to enjoy. Begin your first step into art therapy at home.
Craft-Ease: Art Therapy for Everyone
At Craft-Ease™, we actively promote art therapy in the form of complete craft kits so that everyone can achieve therapeutic and joyful experience through art from the comfort of their home.
Our Favorites from the Collection
---