How to Frame a Diamond Painting
Posted by Devi Rifandiani on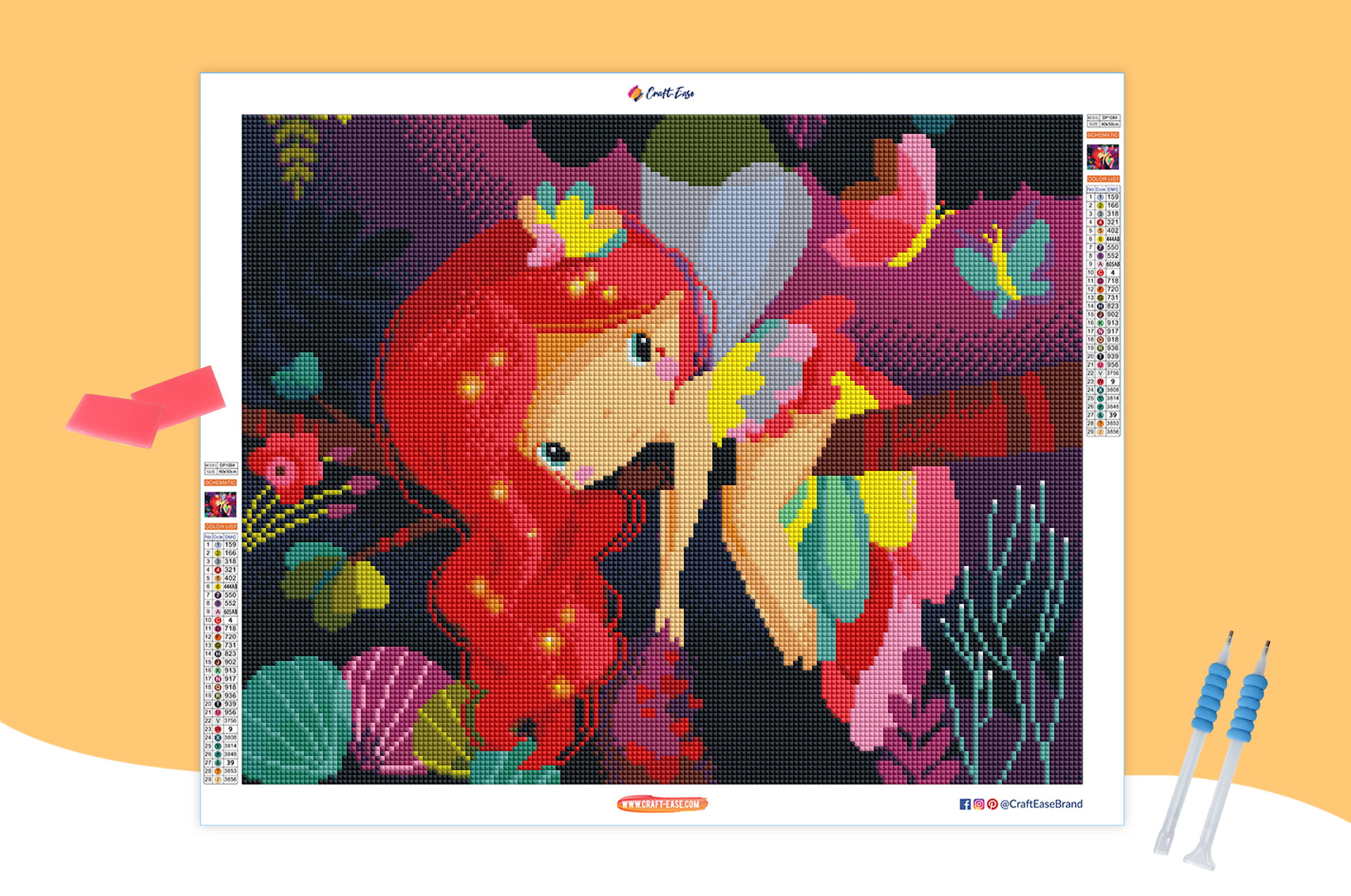 After countless hours of pasting each and every diamond drills to your canvas, you might wonder "What to do with your finished diamond painting?" Well, don't let the beautiful result of your hard work be hidden away! Frame your diamond painting and show it off to the world!
Unfortunately, you cannot get any diamond painting kits with frames easily these days. So the decision of how you want to frame your diamond painting falls entirely up to you! You can adjust it to your imagination, craftsy skill, and even budgets.
If you are only about to tackle your very first diamond painting kit, you can head on over to our Diamond Painting Beginner Tutorial page. And if you are curious about the different diamond drills that you will find in your kit, you can head on over to our blog post about it: The Difference Between Diamond Painting Drills.
So here are some ideas on how you can frame your diamond art.
Wooden Frames - Canvas Stretchers
One option you can try out is to frame it like a regular canvas: on a wooden stretcher. So you will have to install this after the diamond painting is finished. The wooden stretched will go on the backside of the canvas, and you can pin the canvas down to get a nice and smooth result.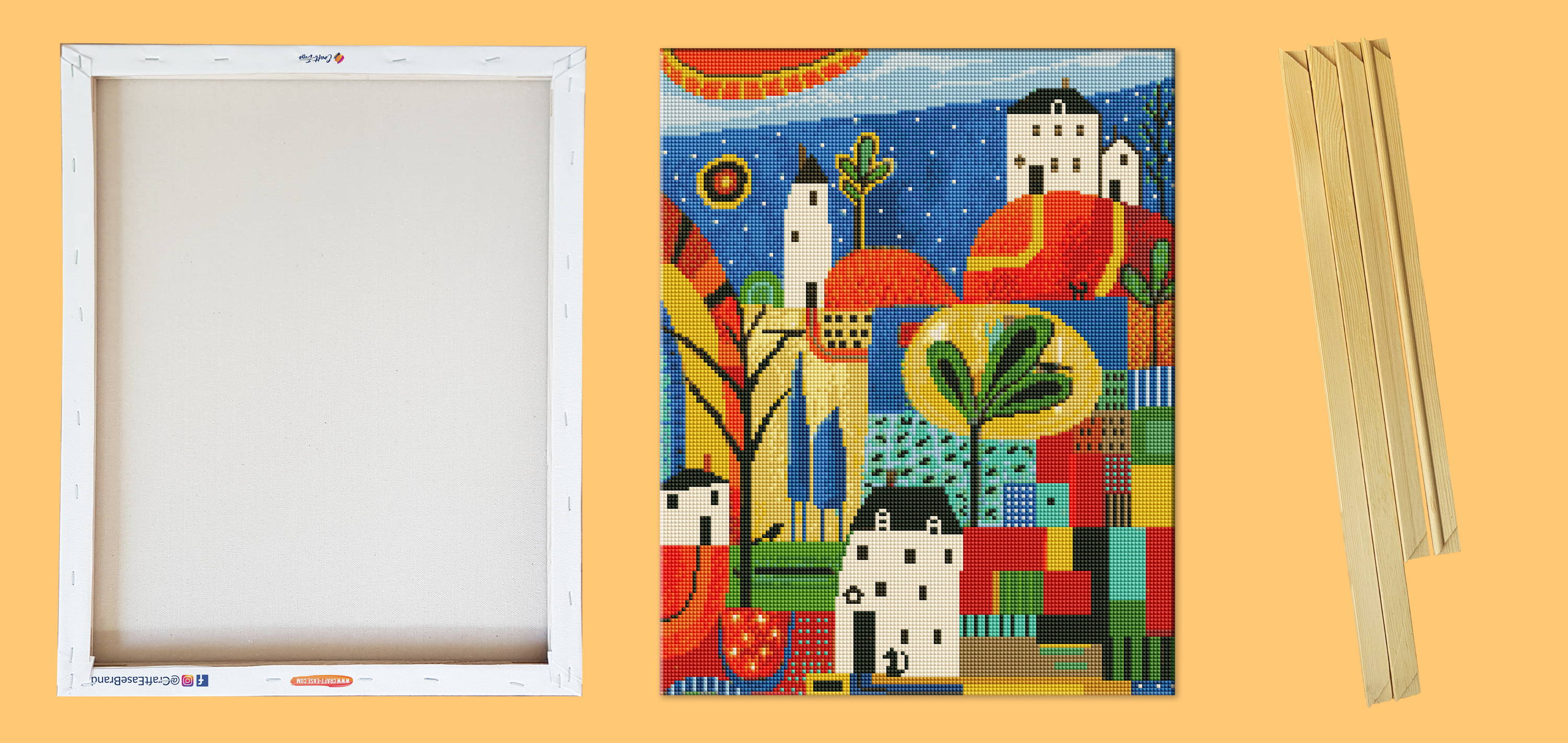 This option can be challenging as it requires a little bit of hand-eye coordination. You can buy a separate DIY wooden frame kit, or even take it to a professional and have them do it for you. You do not need any special frame for diamond painting. Any kind of wooden canvas stretchers would work, as long as the size is the same as your piece.
Here are the steps of how to install a wooden frame to your diamond painting kit:
1. Lay your finished diamond painting face down on a table
2. Mark the corners and boundaries of the artwork.
3. Assemble all of the pieces in your wooden frame.
4. Line up the wooden frame with your artwork.
5. Start from one side of your canvas, take the extra space on the side of your canvas to wrap it around the wooden frame, and pin it down in 1 place.
6. Then move on to the opposite side and do the same thing. Taking care to make sure the canvas is straight but not overstretched.
7. Then you can do the other sides.
8. After all the sides are in place, you can start adding more pins to finally secure the canvas. This is where you can adjust the tautness of the canvas over the frame.
9. Finally, fold in the corners to wrap neatly around the frame and pin it down.
10. Your diamond painting is ready to hang on a nail or hook.
The important thing when you want to try this on your own is to make sure that you do not overstretch your canvas, especially if you have not sealed in your diamond painting with a liquid sealant. Because when you over-stretch the canvas, you risk stretching the adhesive layer and causing diamond drills to fall off the canvas.
The advantage of this method of framing is you have a little bit more area to place in diamond paintings! With wooden framed canvas, you can still decorate the sides of the canvas, to give it a finished look. You can extend the painting, using similar colors, or you can do a nice sprinkle of confetti colors. All you have to do is apply some glue (you can use double-sided tape you have at home or a little bit of hot glue on the sides) and you can decorate the side of your canvas!
This is also another way that you can display your finished diamond painting, you can use a store-bought photo frame. I would say, this is one of the simplest ways that you can frame your diamond painting.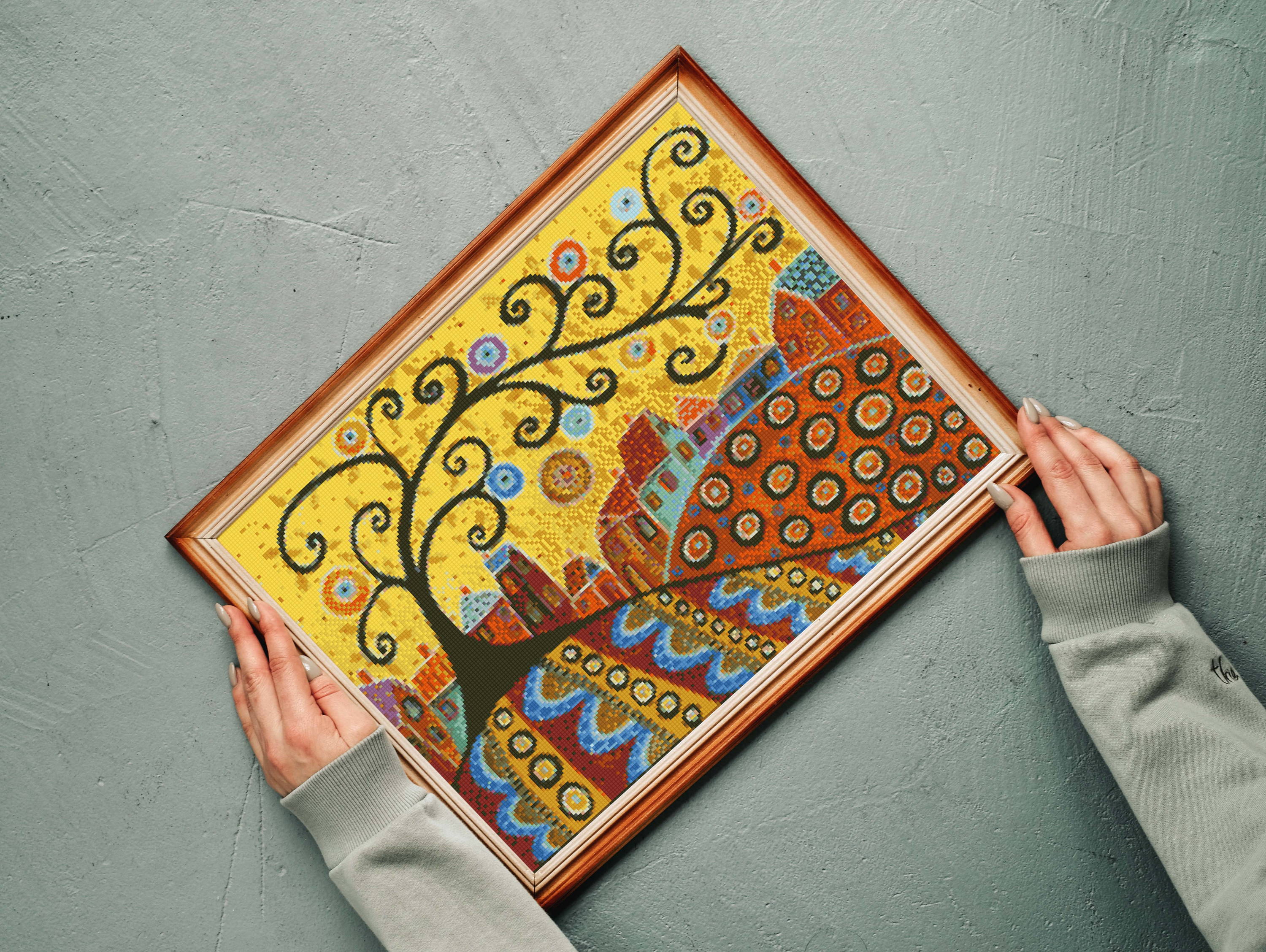 For a finished look, you can pick a frame that is slightly smaller than the diamond painting canvas you want to frame. The borders of the photo frame can hide the rest of your canvas so you do not need to trim the canvas off.
Here is how you can attach your canvas to the photo frame:
1. Take apart the photo frame.
2. Staple or glue your canvas to the removable backing of the photo frame. Make sure that it is secure and would not slip down.
3. Then you can re-assemble the photo frame. It's your voice to install the glass piece back into the frame.
This option is simple, though can be slightly higher budget than the DIY wooden stretcher. But it will give your finished diamond painting canvas a more polished look. There are wide options of photo frames available, so I am sure that you can find the right size to frame your diamond painting.
One thing to keep a note of when you are looking for a frame for your diamond painting canvas is the dept of the frame. Unlike photos or regular canvas, diamond painting has drills are quite thick and heavy.
So make sure that it has enough space to accommodate the height of the drills, especially if you are picking diamond painting frames with glass. If you try to force it down, it might damage the drills or the glass.
This option is not too different from the photo frame. You can use poster frames to display your diamond painting canvas, it will give off a more modern and minimalist look. For poster frames, look for a size that is slightly bigger than the size of your diamond painting. And still, pay attention to the depth of your frame and thickness of your canvas and diamond drills.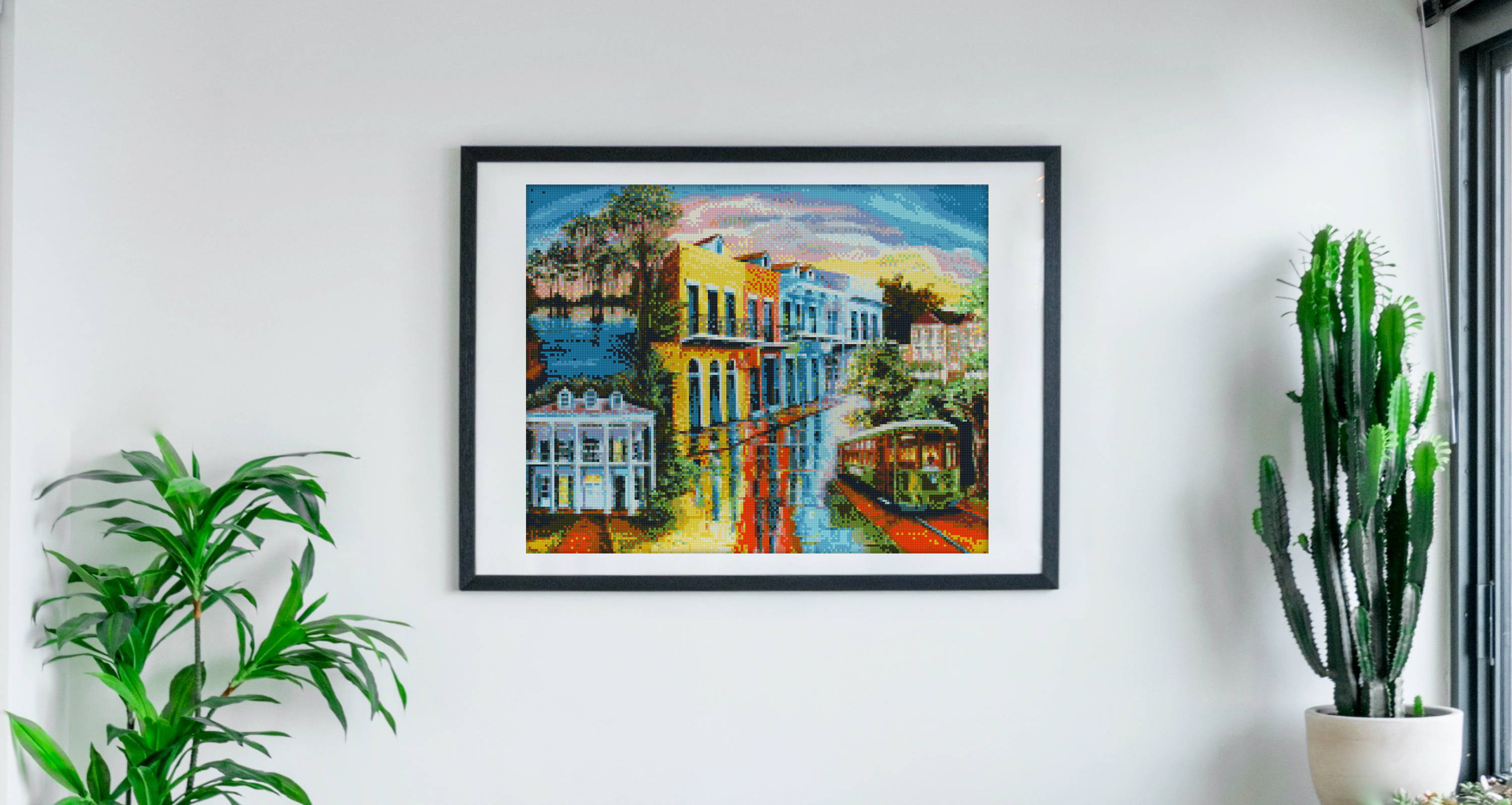 How to frame diamond painting canvas with poster frame:
1. Trip the edges of your canvas. Trip it carefully, and get it as close as you can get to the edge of your painting. Use a sharp knife against a straight edge to get a nice and clean look.
2. Use a strong adhesive like glue to tape to the backing of the frame if you want it to be secured.
3. You can use sticky tack that is strong but removable if you plan to regularly swap out the artwork that you want to display.
Have it professionally framed.
This method of framing your diamond painting will give off the best results, but it will also be the most expensive. Getting it professionally done means you will get a clean result and you have a wide range of options to choose from, they can even especially accommodate the thickness of the drills while framing.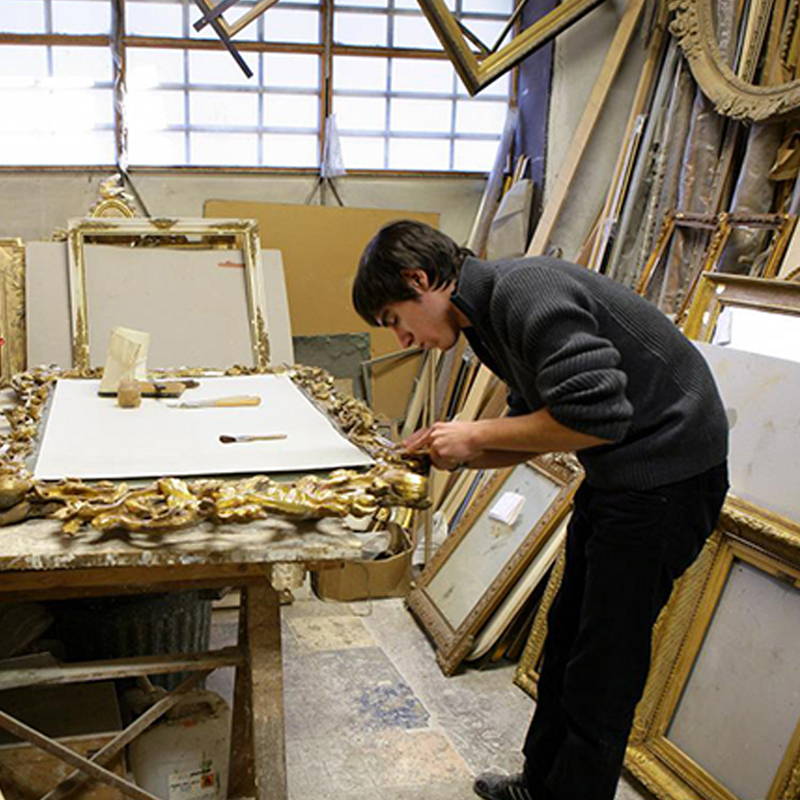 I recommend getting your extra special custom diamond paintings professionally framed. For example, your extra bling family photo which holds a lot of memory and significance.
Try to ask around your area and check out if they can have your hours and thousands of diamond drills framed for you!
Mounting it on another surface
This method allows you to take advantage of the property of whatever materials you will mount it on! The principle of any material are the same, you will have to just glue and secure your canvas on it, and voila! Your diamond painting is framed and ready to display.
Here are some ideas of things you can use to month your diamond painting:
a. Pre-stretched painting canvas - it is easier to secure the two canvases instead of a loose wooden frame.
b. A wooden board - the sturdiest options
c. A tick foam board - not too sturdy, but is the easiest to swap out when you want to redecorate and display your latest completed projects.
When you are mounting your diamond painting, it is best to trim it close to the boundaries of the actual artwork for the neatest and clean look.
To frame it with or without glass
You can choose to display your diamond in the photo frame with or without the glass panel. Installing it behind glass will help protect your diamond painting, from the drills falling off, as well as from dust and friction. Ut storing it behind glass can also reduce its bling effect, as it will reflect light differently. At the end of the day, the choice is yours, and if you do not like it one way, you can always change it.
You can also seal your diamond painting. There are many options of different sealants that would be available and will not damage your diamond painting drills. And if you are running into a creased canvas problem, you can head over to our blog giving you tips on how to flatten your diamond painting canvas.
Displaying your finished diamond painting canvas should not be complicated. Almost all kinds of frames that you find around you will be able to be used to frame your diamond painting, as long as you find the right size. Do not be afraid to try out different things. If you do not like the result you can always change it, and we know that you have many other diamond painting projects that are waiting to be displayed!
How to Flatten Your Diamond Painting Kit Canvas
Diamond painting is the most comfortable to do over a flat surface, but you take your kit out of the box and it just won't lay flat. Read along to find out what you can do to get rid of creases on your canvas, and flatten it without damaging it.
What is Diamond Painting? Explained!
What is diamond painting? If you are into arts and crafts, chances are that you have come across the term diamond painting. Diamond painting is an up-and-coming form of handcraft that features a mix between cross-stitching and painting by numbers.
Craft-Ease: Art Therapy for Everyone
At Craft-Ease™, we actively promote art therapy in the form of complete craft kits so that everyone can achieve therapeutic and joyful experience through art from the comfort of their home.
Our Favorites from the Collection
---