Diamond Painting Tools and Supply to Upgrade Your Collections
Posted by Lois Chan on
Diamond Painting is a simple hobby to start! It is relaxing, and the end result will always be sparklingly gorgeous. If you are completely new to the hobby and want to know more, you can go ahead and read a couple of things we have written up about "What is Diamond Painting?" as well as some tips for beginners. Where we laid out steps to successfully tackle your first diamond painting kit, and some tried and true tips from the community!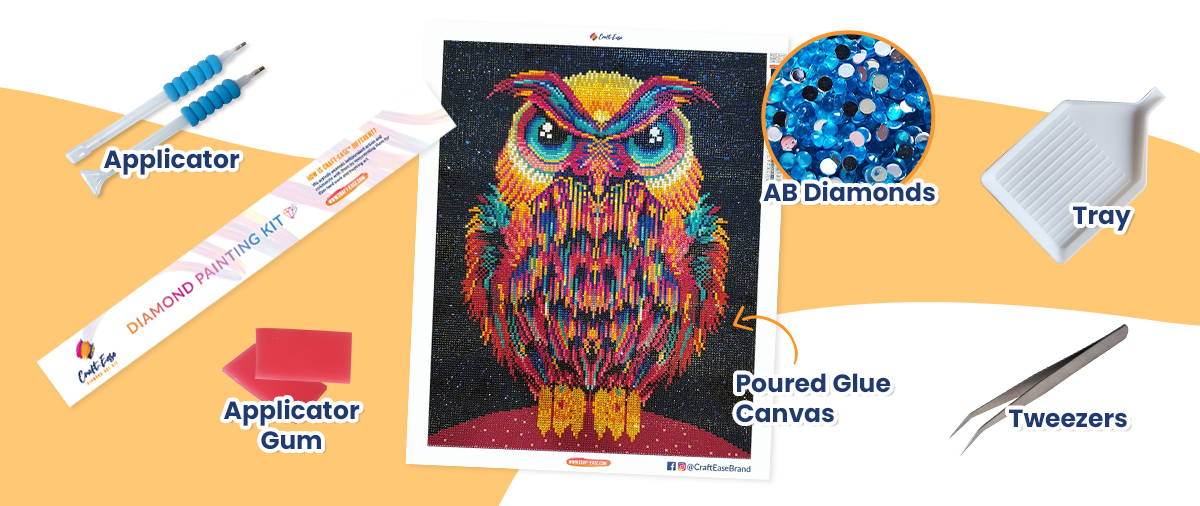 Usually, the diamond painting comes inside of a kit; including a canvas, the set of diamonds, and most of the tools that you would need to create a beautiful diamond painting. That is why the hobby is very friendly for people that are trying it out for the first time. If you want to see what will be included in your diamond painting kit, check out our review of the best diamond painting kit.
After you have completed a couple of diamond painting kits, and you start to invest more time into the craft, I am sure you'd want to upgrade some of your gear! So let's take a look at how you can upgrade your diamond painting experience. You choose which one you want to add to your collections!
What is a diamond painting pen
How to use the diamond painting pen
Different types of the diamond painting pen
What is it and why do I need more
Types and benefit
What is diamond painting organizers
Different ways to store your diamonds
What are the diamond painting tools and supplies?
Here are some of the tools that we are going to cover in this article:diamond painting pen,diamond drills organizer, light pad, loupe, and magnifier, as well as frame and diamond paint sealer. We will discuss the different types you can get and why you would want to get them.
What is a diamond painting pen?
Before we dive deeper, what exactly is a diamond painting pen? Diamond painting pen is the most important tool that allows you to pick up your diamond drills and place them on the sticky canvas. The pen makes it so much easier than having to pick each drill with a tweezer.
Most diamond painting pen that is included in a kit is made out of a plastic tube with a tip, either metal or plastic. They are not too comfortable if you like to craft for a long period of time. The key part is its tips that have hollow space that can be filled with sticky materials that can softly pick up the diamond beads.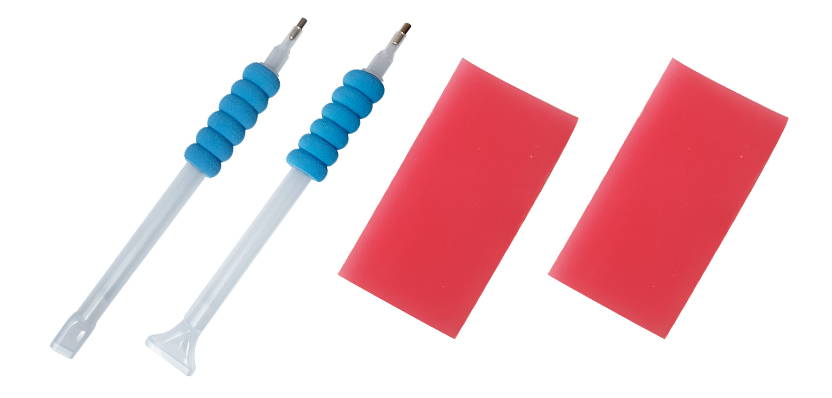 The most basic diamond painting pen has a hollow metal end tube that can pick up a single diamond drill. There is a more developed form of this pen, where the tips are wider allowing you to pick up multiple diamond drills. We call this multiplayer, allowing you to pick up 2, 3, 4, or even 7 diamonds all at once and place them simultaneously in a row. Some diamond painting pens have interchangeable tips, so you can remove your single placer and install a multiplayer easily.
How to use a diamond painting pen?
Diamond painting pen is used together with the diamond painting wax, it is a sticky gummy material that will fill the hollow nib of the pen, and this wax is essentially what your diamond beads will stick to. Without the wax, your pen will not be able to pick up the diamond drills.
With the pen loaded with the gummy, you can pick up the diamond from the diamond painting tray, or even the box, and transport it to your canvas. And the diamond will stick to the canvas and come off of the pen. The beads will come off the pen easily because the adhesive on the canvas is much stronger than the wax, so it pulls it off the pen just fine. This is also where you get the satisfying popping sound of diamond painting.
If you'd like to know more about the whole process of diamond painting, you can go ahead and read our Beginner Diamond Painting Guide.
The function of all diamond painting pens is pretty much the same. So what makes it different, and why would you want to buy more? Well, it's a matter of upgrading your comfort. The basic pen that you get out of a kit is not the most ergonomic thing to hold.
There are some ways to make the standard pen more comfortable, for example, Craft-Ease included 2 pieces of foam squishy that you can use on the handle of the pen to make it more comfortable. Or a cute knitted sleeve for the pen, and even wrapping masking tape on the handle so that it has a better grip and curve for your hand.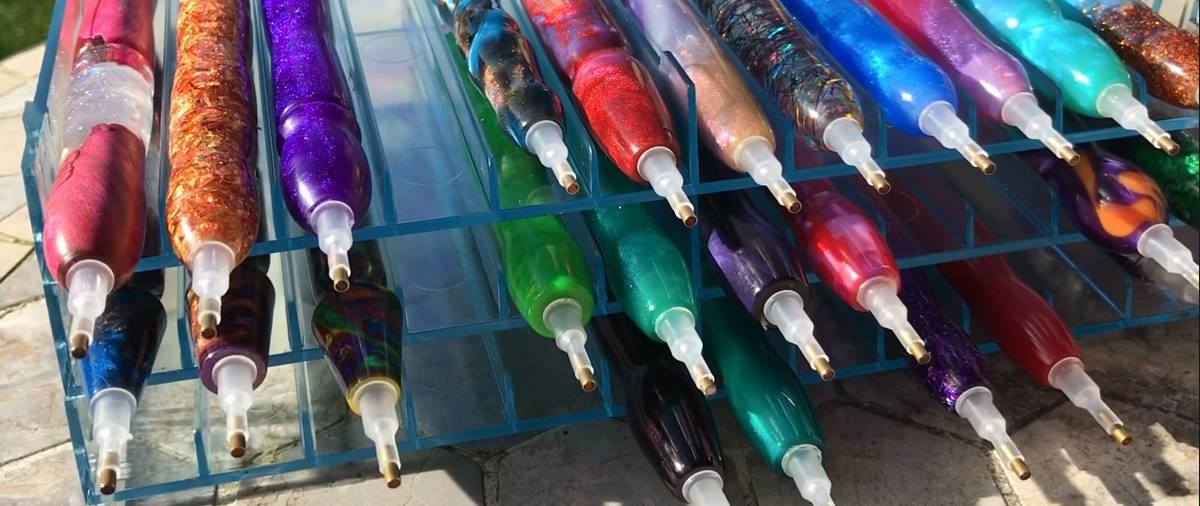 Types of Diamond Painting Pen
The ones that you will find the most are curvy artisan diamond painting pens, there are usually made out of epoxy resin or acrylic. Resin is the lighter one of the two. Artisan pens usually have a thicker body than the pen you receive with your kit, they also have curves on them. This gives a better grip comfort, the curve will feel better in your hand, and allows you to craft for a longer time.
Some of these artisans' diamond painting pens are also double-ended, so you can attach placer tips on both sides of the pen. This makes it really convenient! PS: Craft-Ease Diamond Painting Pen are curvy, and double-tipped - we even include 4 different tips for you! Go check it out.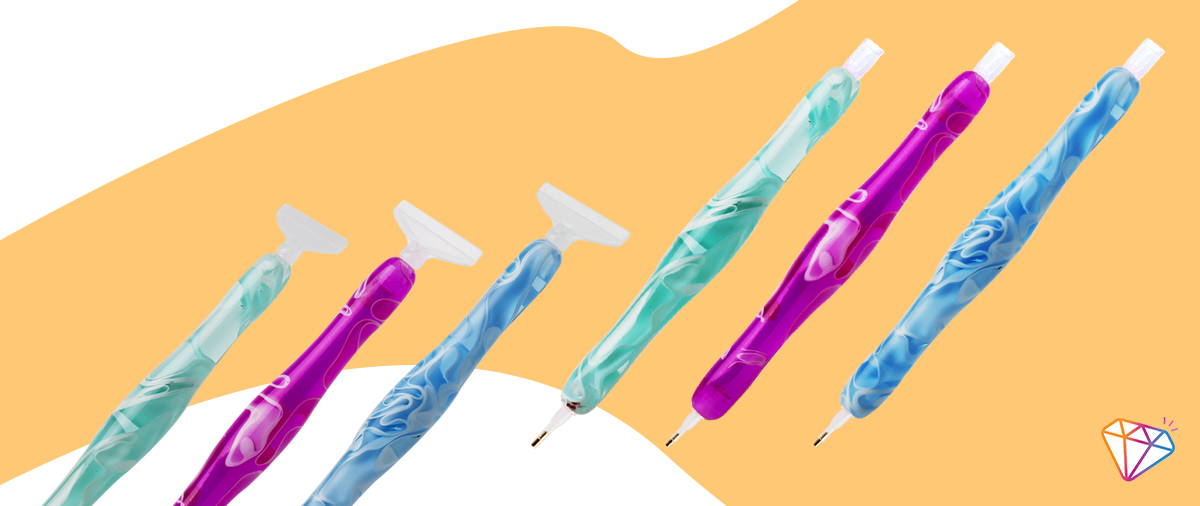 Aside from an artisanal diamond painting pen, there are also DIY ones! These are when crafters really flex their creativity hats so that they can upgrade the feels and look of their gear!
Ballpoint diamond painting pen - yep, you read that right. This is where you remove the tip of your diamond painting pen and attach it to your favorite ink pen. This can give you a more familiar grip. You can even create retractable ones. For a different grip and ergonomy, you can even try a Y-Shapen pen and replace the tips with a diamond painting hollow nib.
Some people call them diamond trays, some also call them diamond boats. And just as the pen, you will usually receive one in your kit. But who is to blame when you buy because of the pretty options that are running around the internet!
What is the function of a diamond drill tray?
Diamond drill tray really helps you in aligning your diamonds before they go onto your canvas. Ever wonder how to get your diamond right side up that your diamond painting can pick it up? TRAY! There are tiny uniformed ridges along with the tray so that when you gently shake your diamond drills around it, it will fall in between the spaces and landed right side up! This tool is crucial.
If you are given one with your kit, why then do you need more? Well, the biggest reason crafter would want a different diamond tray, is to upgrade the size. With a bigger diamond tray you aspen less time pouring and shaking diamonds, and more time painting!. This is really convenient when you are working on a large surface with one color, or if you are working with a multiplacer nip.
Have you heard of a tray for your tray? This is a step above the diamond painting tray that carries the diamonds. But this is a container that allows you to have several different diamond trays out. Crafter loves this when they are working on an area that has a lot of different colors on it, a "Confetti" area. This way, you do not have to repeatedly change colors. The container keeps these diamond trays safe with minimum risk of flipped-over, oopsies.
This one does not usually come with your kit. But it gives a significant quality of life improvement to your crafting. So we recommend giving it a try.
What is a diamond beads organizer?
This is a container box that will help you store your diamond drills. You can use this while you are working on a kit, or when you are done and want to store your leftover beads. So these work just like your daily medicine container, which has a lid for each small container, and you usually have many cubbies attached together. This is a much convenient way to work with your diamond drills than the flimsy plastic bags that it comes in. It is easier to pour out your diamond and place it back in when you want to change colors.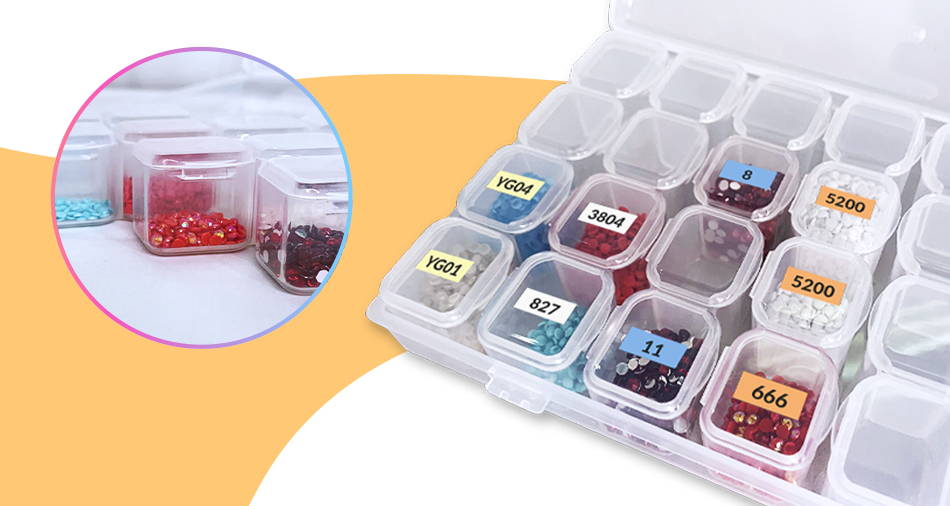 You can label the containers to know exactly what colors are in them! And like any good tools, they are also reusable from kit to kit. You can get one with your kit at Craft-Ease, check out our 28-slot diamond organizer.
For your leftover diamonds, you can use something like this, but maybe bigger in size, as you will eventually build up a large number of leftover diamond drills as you continue crafting. I have seen people repurpose medicine bottles and ever jars. Just make sure that you label your bottle correctly with the DMC color code, which is mostly universal.
This is also going to help with seeing your canvas better, as the different printed symbols can sometimes be hard to see. So with the light pad placed behind the canvas, you will be able to see the symbols easier and better! The light pad can be also used for other crafts such as painting and drawing as well.
A good light pad should be easily charged and thin for handling and storage. Check out this popular tool on Craft-Ease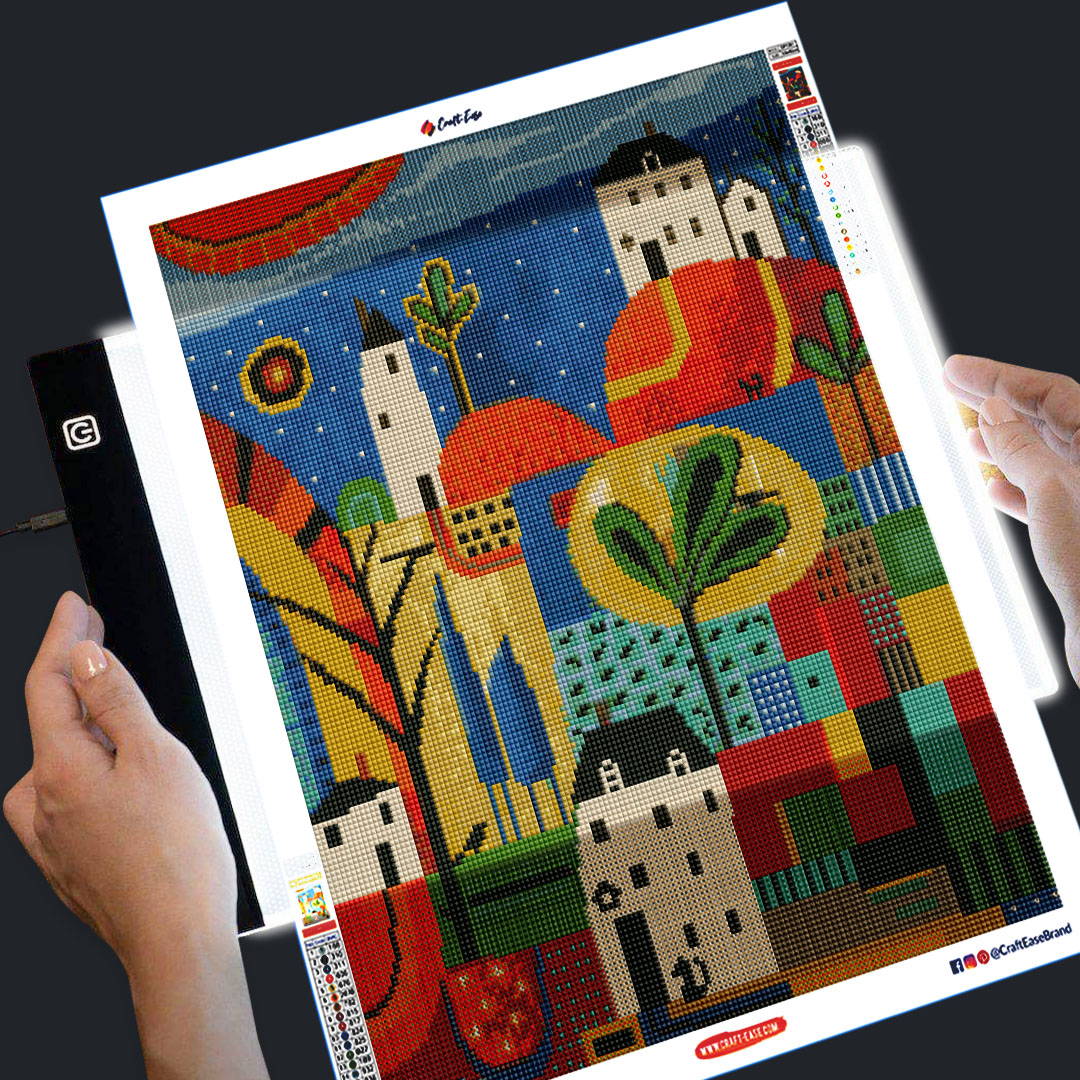 The size of a diamond drill is about 2.8 mm. You can fit about 3.5 diamond drills in a centimeter or 10 per inch. So they are small, and they can strain your eyes. That is why there are many tools that are available for you to buy, so make your crafting much more comfortable.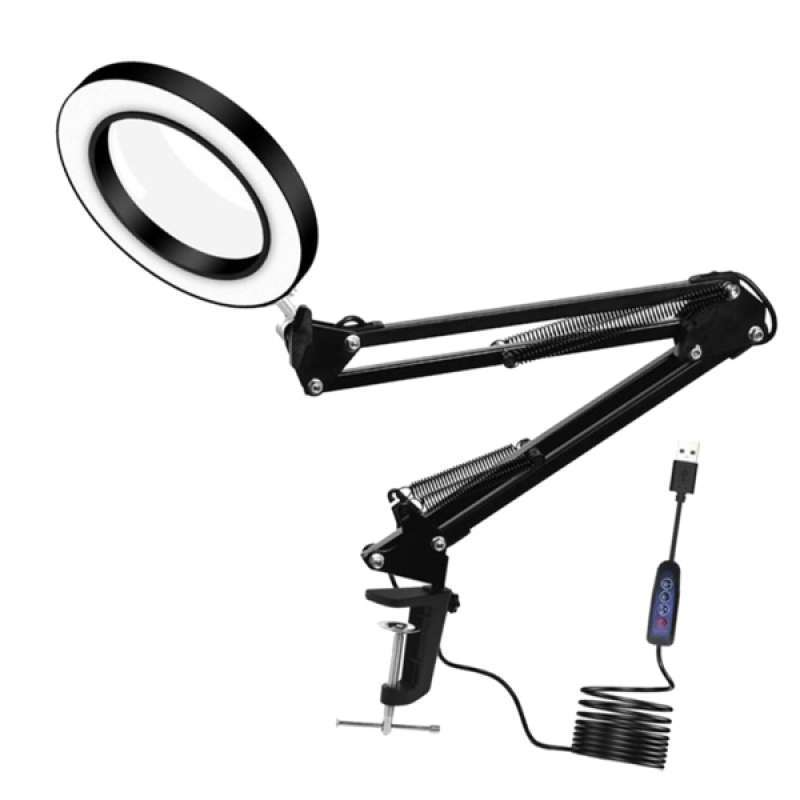 You can get a magnifying glass that has an adjustable leg and is attached to your table so that your hands would be free to use for your crafting. Or even look like a cool scientist, with a loupe that is attached to a google!
This tool is one of the big must-buys for senior diamond crafters, especially if you are interested in displaying your works. Rollers are used after you finished your painting and want to make sure that all of the diamonds are stuck to the canvas nicely. The rolled applies uniform pressure to the diamond drills and makes them flat and make sure diamonds are at the risk of popping, the term crafter is used when diamonds are too tightly packed and fall off the canvas.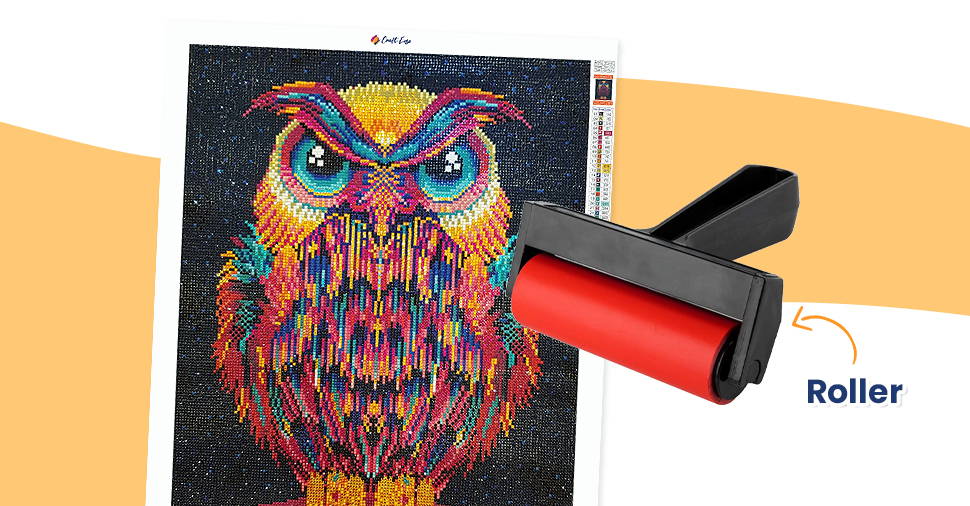 This is the final step to your diamond painting! To display it! Show off your amazing artwork and ass some sparkle to your house. And to do that, you want to place them on a nice frame, and make sure that the diamonds are nice and secure.
You can frame your work many different ways, for more detailed explanations of the options, head on to our blog post on how to frame your finished diamond painting. You can install a wooden stretcher like the one we have available: Craft-Ease Original DIY Wooden Frame. Or you can place it on a store-bought photo frame for maximum protection.
It is also worth noting that you can seal in your diamond painting, to make sure that it will not all off the canvas. But make sure that you pick the correct sealant so that you do not dim the sparkle of your painting. Some of the community's favorite sealants are the polycrylic and polyurethane kinds. They give a great finish and security to your finished canvas.
So those are some additional tools and trinkets that you can add to your arsenal when you are thinking of stepping up your diamond painting game! Let us know how you have upgraded your tool kit in our social media profile and Facebook group!
How to Flatten Your Diamond Painting Kit Canvas
Diamond painting is the most comfortable to do over a flat surface, but you take your kit out of the box and it just won't lay flat. Read along to find out what you can do to get rid of creases on your canvas, and flatten it without damaging it.
What is Diamond Painting? Explained!
What is diamond painting? If you are into arts and crafts, chances are that you have come across the term diamond painting. Diamond painting is an up-and-coming form of handcraft that features a mix between cross-stitching and painting by numbers.
Craft-Ease: Art Therapy for Everyone
At Craft-Ease™, we actively promote art therapy in the form of complete craft kits so that everyone can achieve therapeutic and joyful experience through art from the comfort of their home.
Our Favorites from the Collection
---